Expert commentator | Smart Insights | Thu, 22 Sep 2016 08:00:00 +0000
Small business marketers need to sit up and pay attention to the latest mobile design options
Technology has revolutionized communication and changed the face of doing business in modern times. Computers, Tablets, and Smartphone which were initially used to surf the net, stream videos and chat online have become key business tools. Mobile is becoming ever more crucial now that it accounts for over half of all web traffic. But how does a small business use the latest mobile design to grow its business? The answer to this question is determined by two factors:
Increase in popularity of Social Media
The development of more capable Smartphones
Facebook, the most popular social network worldwide has 1.71 billion monthly active users across the world, according to the latest statistics.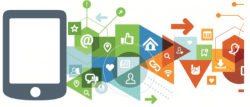 The other factor hinges on the improvement of mobile design evident in the market today. Statistics on phones with advanced features for computing and online connectivity forecast that a third of the world's population will own a smartphone by 2017. That translates to 2.6 billion Smartphone owners.
The scramble for a piece of mobile design industry pie has been taken a notch higher by inventors to tap into the greatest potential audience of Facebook and Smartphone users.
What are the implications of mobile design for marketers?
"Only 6% of small business sites have migrated to mobile-friendly designs,†a survey conducted by website builder Duda revealed.
In another development, "50% of all mobile searches were for local queries.†There is unlimited potential for unique mobile design to meet marketers demand, with "more than half of searches … happening on mobile devices" the survey further discloses. You could sum up the importance of mobile design for marketers in two ways:
Impact on Small Business
Influence on Market.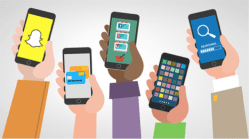 Google is spearheading the latest development of Accelerated Mobile Pages (AMP). In the relentless match to meet marketers demand. Â The move is now full swing to make the mobile experiance faster and sleeker. Marketers need the best conversion flow for mobile users to speed up business transactions. Imagine the impact
Marketers need the best conversion flow for mobile users to speed up business transactions. Imagine the impact 1.57 billion mobile MAU, could have on your business if your landing page increases the mobile user experience. You're looking at enormous gains.
According to Itai Sadan, CEO and Co-founder of Duda, "the reason mobile design deserves so much attention from marketers is that by and large mobile traffic is conversion focused. Most people who are visiting a website on their phone are looking to take some kind of immediate action, like getting directions, placing a phone call or making a reservation. This means mobile web design should help facilitate these actions as much as possible, and to simply write it off as an afterthought would be a mistake.â€
Smartphone Speed
Time to load and move data plays a huge role in business. The pages with less than one-second page load time offers a great advantage to keep the phone owner glued to the screen. "More than 50% of Google's search activity now takes place on mobile devices.†That is enough reason to manage time online.
1. Purpose Driven Quality Content
You want to take your business to the next level; Accelerated Mobile Pages (AMP) is the way to go. Google Accelerated Mobile Pages and Facebook Instant Articles will keep you on the lead in the cut-throat world of business. You get high ranking and more clicks through your Facebook Instant Articles.
Smart things come in little packages. Designers are working around the clock to make content fit the mobile screen, sort out and get rid of fluff which slow speed.
It is not enough to create credible content. Marketers are on a mission to fulfill the purpose for in communication and doing business. It boils down to Return on Investment (ROI). You can change all the elements and content on the landing page of your Smartphone in seconds.
2. Accuracy
There aren't any easy jobs in the technology industry. It's all tough, hard work. You don't learn how to design better mobile friendly sites unless you've been there yourself.
Web Designers are aware of the market demand for accurate, responsive and user-friendly mobile sites. Designers are hard at work to cut down the amount of time spent online due to slow web page loading time on mobile websites and its effect on search ranking.
3. Creation of Credible Content to hit Critical Mass
The usual effect of crisis is accelerated human ingenuity. The world has gone digital, so should you. WebPageTest will bring you up to date on the efficiency of the site. Today's major problem isn't so much the high cost of production and low commodity prices than it is e-waste. With a mobile friendly site, your mobile traffic will increase significantly.
4. Efficiency is the Ultimate Pay Back Deal
Another challenge Mobile Designer's face is large image sizes. A number of techniques are used to resize and compress images to make them fit mobile phone small screens before you can fire one off to a destination. Mobile Designers continue to improve on these because they are a very important element in web design.
Programs such as imagemagick, are handy tools for marketers to get the job done well and efficiently. Besides, lossy compression will assist you to resize and rewrite data files you're working on online.
Images are data-heavy and could slow you down considerably. Thanks to Amazon Cloudfront CDN – a Content Delivery Network which facilitates delivery of content in specific geographical location to the user faster. If you've been toying with the idea of improving performance on your website. Now is a good time to use PageSpeed Insights tool to test speed performance.
Future Focus
Mobile design has come a long way as a result of the search for unique features shared collectively by the inventors. New initiatives are required for business growth experience. That is why mobile design matters to marketers
The most innovative measure for Accelerating Mobile Pages has been the establishment of a system of consultations, aimed at providing better understanding of present and future trends in mobile marketing.