Expert commentator | Smart Insights | Thu, 12 Jan 2017 11:00:00 +0000
New research reveals the top tactics ecommerce businesses can use to convert the 68% of people who abandon their shopping carts
In 2016, global ecommerce sales within retail grew to $1.915 trillion, a figure excluding sales for travel, events, and restaurants. What is more, ecommerce is projected to grow to over $4 trillion by 2020. This type of growth isn't occurring anywhere else in retail (an industry which hovers around 6% growth year to year as a whole), so it's clear that ecommerce revenue will increasingly become a dominant force in retail. Yet as retail adapts to the digital world, the ecommerce system has evolved into something imperfect.
Simply googling ecommerce business problems reveals a troubling statistic: the majority of shoppers abandon their shopping cart before finalizing a purchase. In fact, according to Baymard Institute, 68.81% of online shopping carts are abandoned, and this figure is based on the average of 34 different studies. Clearly, something is going on here. Why are so many people abandoning their shopping cart? Sure, there are people who are just browsing and have no intention of buying, but they can't account for the entire 68%, can they? Let's see what the statistics have to say about it.
Unsurprisingly, browsing is the number one cause of cart abandonment, accounting for 58% of shoppers who abandoned their cart. Browsing will always be a part of retail and isn't something that businesses can control, so let's take those browsers out of the equation and look at the remaining 42% of consumers, whom we will analyze on a 100% scale, to see what actionable steps businesses can do to win these customers back after they abandon their cart.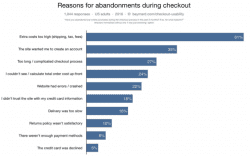 Minimise extraneous costs such as shipping
As is often the case when it comes to purchasing something, the biggest reason for shopping cart abandonment is an issue of expense. 61% of customers who abandoned a shopping cart said that the reason they left was because the extra costs of shipping, taxes, and fees were too high. Indeed, a study conducted by Deloitte found that 69% of shoppers are more likely to buy from ecommerce platforms that offer free shipping. When ecommerce is so competitive with numerous platforms offering low fees and shipping costs, it's hard to sway buyers looking for the best deal without minimizing fees as much as possible.
Don't force users to create an account with you
The next two biggest problems tie into each other as issues of time and commitment. 35% of consumers said that forcing them to create an account will cause them to abandon a shopping cart, and 27% cited a checkout process that was too long and complicated. Consumers prefer shopping online because it is convenient and offers choices, and if the experience doesn't fulfill that desire, they will turn elsewhere.
Make the experience intuitive
Other common issues include those related to the design of the website: 24% of shoppers left their cart because they couldn't calculate the cost of their order from the beginning, 22% left because of website errors, and 18% cite trust issues with the ecommerce platform and didn't want to give their credit card information. Businesses take note, if you want to minimize losses to these issues, you need to work with web designers in order to ensure that the shopping experience is intuitive and works, as well as creates trust with the shopper.
The remaining problems are ones of infrastructure and business modeling, whether it's slow delivery time (affecting 16% of shoppers), poor return policies (10% of shoppers), lack of payment options (8% of shoppers), or declined payment (5% of shoppers). While there are ways to minimize cart abandonment by taking these cited reasons into account and optimizing your website, ultimately, you will have abandoned carts regardless of what steps you take. The question then becomes how do you get them back?
Re-target those who've abandoned their carts
Retargeting customers who have created a shopping cart only to abandon it can be incredibly successful if done right. This retargeting process dominantly comes in two forms: advertisement retargeting and email recovery campaigns. Ad retargeting is a form of marketing that targets consumers after they've visited your website. Using a service like AdRoll, Retargeter or Google Adwords, businesses can show their ads to shoppers as they browse new websites after abandoning their cart earlier. This tactic can be highly effective, and in one case study, 30% of non-converting shoppers returned to a website through ad retargeting.
Send cart recovery emails
Email recovery campaigns require a bit of personal information from the shopper. However, given that the first step of any checkout process is generally name and email, it's relatively easy for businesses to acquire this information in order to send personalized emails to consumers who have abandoned their shopping cart. These emails can include reminders about their cart or products they were interested in and even a discount as a hail mary attempt to revive interest in making a purchase. Using this technique, Andrew Youderian, an ecommerce entrepreneur, was able to convert between 3-11% of shoppers who abandoned their cart the first time around, and he was able to do this in the first few months without any extensive email segmentation and optimization. Other companies like Envelopes.com have been able to reduce checkout abandonment by 40% through email recovery campaigns. Another way to help decrease the cart abandonment and even help boost conversion rates is to use insightful and high quality videos especially if the products on your website requires helpful instructions or comparison.
Conclusion
No matter how much a business optimizes its ecommerce experience, it will inevitably lose shoppers even after they've created a shopping cart and begun the checkout process. It's in a company's best interest to minimize those losses, but they also need to prepare to recapture the shoppers they lose. This is where retargeting comes in to remind consumers of their interest in a product and get them one step closer to converting after they've left.