Expert commentator | Smart Insights | Wed, 01 Jun 2016 15:00:00 +0000
There's no magic formula for going viral, but there are ways to boost your chances.
You've heard the success stories: A brand creates content that takes off unexpectedly and elevates its reach and influence dramatically.
So how do you make it happen for yourself? There's not a magic formula, but there are steps marketers can take to increase the chances of virality.
My team at Alexa analyzed a series of websites that had posts take off like wildfire. We chose the sites we did because the publish date for the viral posts directly corresponded to a rise in the hosting site's traffic numbers. We used Alexa's competitive intelligence tool to analyze each website's traffic, global rank, and reach.
Analysis of Mic.com
Amy Poehler – described by one journalist as a "media darling and all-around-awesome lady†– is something of a feminist icon. It's no surprise that millennials are enamored with the actress, which is why Mic.com's article with quotes from the celebrity likely did so well.
Mic shared a listicle (a short-form article with a bulleted or numbered list) with more than a dozen relationship quotes from Poehler. There's an empowering theme throughout the article with tidbits like, "You deserve love and you'll get it.†The piece didn't garner many shares on Twitter or LinkedIn, but it was shared on Facebook more than 7,600 times.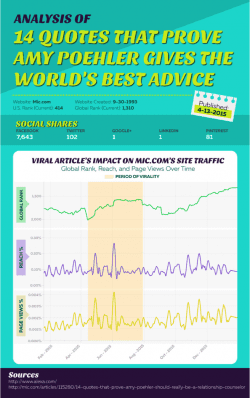 After the article was published, Mic's global rank increased 22 percent and its reach nearly tripled.
Mic is a website geared toward millennials and young adults – the website's mission statement says "young people will define the future and we deserve a news outlet that offers quality coverage tailored to us.†The listicle was easy to digest and easily shareable, which made it a hit with Mic's audience. The site's audience is primarily women between the ages of 18 and 44, and 82 percent of its traffic comes from social media.
So what can other marketers learn from Mic's success? A catchy and compelling headline can get the attention of social media users. Pop culture references and universally popular topics are a simple way to drum up web traffic – it's hard to go wrong with relatable relationship tips from a well-liked star.
Analysis of Creativity-Online.com
Texting while driving kills thousands of people every year, but one-third of drivers admit to being distracted by their phones while on the road. AT&T released an advertisement about the consequences of texting while behind the wheel as part of its "It Can Wait†campaign. The film shows how many lives are changed after a devastating accident caused by a woman checking social media while driving. The crash is jarring and hard to watch, but the message resonates with viewers. The agency who created the ad sought to make it "raw and emotional,†and it works.
It got millions of views on YouTube and was reposted by Creativity-Online.com, a website that "highlights the best in idea-centric communication, advertising, design, websites, and interactive ideas.†Over the next couple of months, the site's global ranking increased 29 percent. Three days after it went live, the site's reach skyrocketed sevenfold and page views increased eightfold.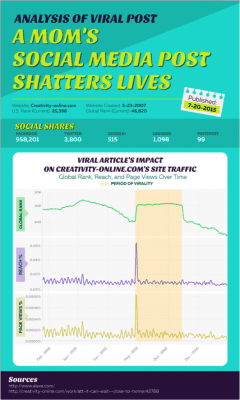 Interestingly enough, Creativity-Online has pretty even sources of traffic. Thirty-five percent of people visit the website directly, while 32 percent find it through search. Only 23 percent of traffic is from social media.
What made this post so successful? The video is almost four minutes long, which can be a risky move when audiences often have short attention spans. But utilizing an element of surprise will keep people watching and grab your audience's attention. Additionally, texting while driving is a social issue that many are passionate about.
Analysis of HoustonPress.com
Leonardo da Vinci once said, "The greatest deception men suffer is from their own opinions.â€
It's likely Jeff Rouner would agree with him. Rouner authored an opinion piece for HoustonPress.com, a Houston-based entertainment source. In "No, It's Not Your Opinion. You're Just Wrong,†he argues that it's important to challenge our beliefs and opinions. Rouner's piece is strongly worded and sarcastic, but it was popular among its readers. The article was shared more than 36,000 times on Facebook.
HoustonPress.com originally published the piece on July 23, 2015, and over the subsequent months, the website's global ranking shot up 32 percent. Rouner manages to be controversial without being isolating – two days after the article was published, the site's reach increased fivefold while page views nearly quadrupled.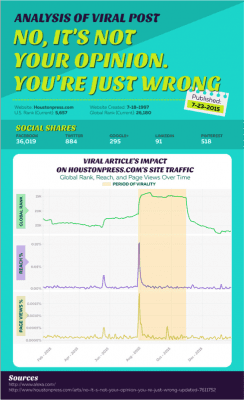 The site's traffic is predominately search-oriented: Nearly half of online users find it via search, nearly 23 percent visit via social media, and just over 20 percent visit the site directly. It's most popular among college-educated women between 35 and 44 years old.
After the article was published, Rouner appended a correction about some of the information he shared and said, "My opinion was based on bad data. Now it's not.†He's fallible and not afraid to admit it, which makes his piece even more appealing.
What's the takeaway here? You never want to alienate potential readers or viewers, but it's possible to be polarizing without being offensive. Additionally, offering new information will always attract audiences – people aren't interesting in hearing about things they already know.
One of the most important things we learned is the value of knowing your audience. The Poehler listicle wouldn't have done as well on a site with an older demographic interested in serious content, and the AT&T film likely wouldn't have taken off if it wasn't targeted toward people interested in creative advertisements. Using website analytics to track audience demographics and sources of traffic can help determine what content will work best for your brand.