Expert commentator | Smart Insights | Mon, 21 Nov 2016 09:00:00 +0000
The top 5 benefits consumers expect from fashion and apparel brands
Know your audience: That's the lesson retailers are acknowledging as the key to adapt their business to the reality of today's rapidly-evolving market. Faced with unprecedented upheaval retail brands must now focus on understanding how to dazzle shoppers and earn their loyalty.
To uncover patterns among shoppers' often-unexpressed wish lists, retailers are turning to technology, from data analytics to social media listening, for clues on how to improve their brands' perceived value. They seek to discover what functional requirements shoppers will actually pay for, how to satisfy shoppers' emotional needs and how to boost word of mouth.
These meaningful consumer insights can help retailers successfully meet consumers' needs to enhance customer relationships, build brand trust and drive revenue growth.
What fashion and apparel shoppers really want?
New research in Harvard Business Review pinpointed five specific benefits that consumers want most from fashion and apparel retailers, which are:
Quality
Variety
Design/aesthetics
Avoidance of hassles
Time savings
Let's look at each of these desirable attributes to see how you can build them into your fashion and accessories business strategy to attract loyal shoppers.
Quality
Products that offer quality consistently meet or exceed customer expectations and offer good value for money. That's precisely why quality is the most important factor among fashion shoppers. As the Harvard researchers found, "perceived quality affects customer advocacy more than any other element.â€
To differentiate their items from comparatively low quality, cheaply made, fast-fashion products, some retailers have made exceptional quality their unique differentiator. To set their brands apart, companies like Aviator, Saddleback Leather Co. and Bogs Footwear, even guarantee their products will last for life.
Even grocery retailers are delivering quality fashion. UK retailer Sainsbury's just launched a premium fashion range to counter the stigma of cheap supermarket clothing. Sainbury's collection uses high quality materials and the latest designs. As a representative said, "Our customers recognize quality and great value and they want to buy clothes with classic styling and upgraded fabrics from us.â€
This year Everlane is projecting major growth, thanks to its success in giving consumers quality basics. The brand's unique position of offering "radical transparency†includes sharing how they source high-quality materials at affordable prices by eliminating unnecessary middlemen. The company is so confident in its quality that customers receive a thank-you note from Everlane, which states, "All of our products are crafted with an obsessive attention to detail†and encourages shoppers to share photos of their clothing online.

In the "Why Do We Get Dressed?" marketing campaign for the Uniqlo Lifewear collection of basics, Uniqlo defines the selection as "innovative, high-quality clothing."[vii] The company brand vision is to provide high-quality, performance-enhanced, basic casual wear at the lowest prices, focusing on timeless classics rather than temporary trends.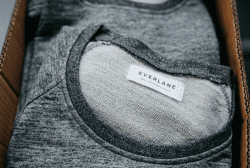 Lesson: Since retail leaders like Walmart and Amazon have dominated the market with selection, price or convenience, Retail Prophet's Doug Stephens recommends that you compete on product quality and "communicate it at every marketing touch point.â€
Variety
Shoppers also crave choice when buying clothing. Ecommerce giant Amazon (whose fashion properties include Amazon Fashion, Zappos, Shopbop, Endless.com and East Dane) has built loyal relationships with shoppers by analyzing their behavior while they browse and buy millions of products and adapting their service accordingly. Such extensive, peerless product variety insulates Amazon, as "the company is much less vulnerable to shifting trends.â€
Lesson: Appeal to shoppers by offering your own unique assortment of products with different styles, silhouettes and fabrics.
Design/Aesthetics
Fashion isn't just about fabric or protection from the elements – emotions play an influential role, too. Fashion and apparel shoppers seek unique and flattering designs for aesthetic purposes. They want to feel confident and attractive while savouring the pride of ownership when wearing certain clothing items.
This year, a few women's clothing mega-retailers, including Anthropologie, J. Crew, Banana Republic, Gap and Ann Taylor, have faced sales slumps because "they can't seem to design clothes that women want to buy … people think their clothes are ugly.â€
To know what consumers find beautiful, ask them directly. Commit to meaningful dialogue, social listening, online product reviews and even opportunities for co-creation through online crowdsourcing by asking shoppers for their input on design.
By analyzing your own sales and online browsing data, you may spot clues and patterns among the merchandise your customers already buy to indicate trends within your own assortment that warrant greater attention and investment.
Also pay attention to what fashion trends receive the most likes and reposts on such social media sites as Instagram, as this highly visual platform provides rich clues on the types of clothing consumers find ravishing and what they might be willing to buy.
Lesson: Match your design, fit, style, palette and aesthetics to wardrobes consumers actually want to wear by making time for market intelligence, truly listening to shoppers and promptly acting on new insights.[viii]
Avoiding Hassle
To make the shopping experience simple and streamlined, retailers are reevaluating the shopping experience from the customer's perspective.
For instance, online shopper's value free, flexible shipping and easy returns processes. Shoppers say a 'no questions asked', easy returns process is also vital for online retailers and 67% will take the time to review a retailer's return policy before making a purchase.
Online shoe and clothing company Zappos offers free shipping and returns, and customers typically receive their items in one day. If a size is unavailable, they use a pop-up notification form to inform the shopper when the combination becomes available.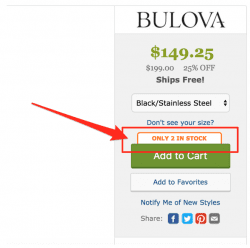 Department store Nordstrom allows customers to buy online with the option to pick up in store and provides style videos with helpful tips.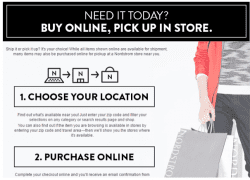 Accessories retailer eBags offers millions of customer reviews, and ratings are built-in on product pages to inform customers which items are most popular.
Lesson: To delight customers, consider how your processes and policies can deliver simple service and effortless ease in-store and online.
Saves Time
Related to a hassle-free experience, efficiency and ease of service are the defining factors for brand loyalty among 52% of consumers. Zappos illustrates this point. The retailer scored high marks among consumers in the Harvard survey for time savings and hassle-free service, two qualities that equate to convenience and ease for consumers.
As Retail Doctor Bob Phibbs states, "There better be a quick checkout. Wait-time at the cash wrap is the death knell for retailers. The longer it takes, the more the customer wonders if they really need it. Speed matters at point-of-sale, whether shoppers engage with cashiers or online or mobile checkouts.
To enhance customer satisfaction and conversion by making the checkout experience faster in-store, streamline the point-of-sale (POS) process with as few steps as possible. Update your barcode technology to reduce scanning inefficiencies. Consider offering multiple service options, including self-serve kiosks. Provide POS training to employees to boost their competence and speed while helping customers complete their purchases.
To make the checkout experience faster online, strive for fast load times and allow payments without the need for customers to create an account. Streamline the online sales process, just as Amazon's one-click ordering option makes the checkout process simple and fast, and children's clothing brand Gymboree offers a seamless one-page checkout. Rigorously test the online user experience, including the POS stage, to eliminate all technical errors that could lead to shopping cart abandonment.
Lesson: Ensure your in-store and online checkout experiences are fast (and accurate).
Winning Fashion Retail Strategies
To deepen your understanding of consumers' needs, you can use retail analytics for data-driven insights rather than imitating or reacting to your rivals' business strategies. Data analytics can help you accurately anticipate exactly which products shoppers demand. You can also gain a competitive edge by gaining insights into your competitors' pricing, promotion, and catalogue to uniquely position your brand.
Start by using analytics to build quality, variety, avoidance of hassles, design and time savings into your business strategy to deliver what consumers truly want.