Robert Allen | Smart Insights | Mon, 05 Dec 2016 11:00:00 +0000
We asked content marketing expert Stephen Bateman about how he uses the RACE framework to structure marketing campaigns for clients
Q. Yourself and Dave Chaffey of Smart Insights recently scoped out a project to improve the inbound marketing programme of a B2B telecommunications firm. Can you give us an idea of how RACE was utilised to scope out and plan the project?
Yes, the firm in question had been getting content from its agency for its inbound marketing programme for more than 18 months, and the team used the content to get "attention†from prospective buyers, but failed to generate the potential volume of qualified leads (MQL) they expected.
There are lots of reasons why the team felt underwhelmed by their content marketing and inbound marketing programmes, but this is what happened over time: The team kicked off its inbound marketing programme, with a documented strategy that identified goals, audiences, content, process and metrics, and 18 months down the line they realise that what worked before no longer works as well as it did, and they've lost track of all the additions, tweaks and changes they made to the programme and they've lost their way. So they need a fresh pair of eyes to come and see the stuff they no longer see clearly.
Using the RACE framework, we were able to evaluate every component in the inbound marketing process from top, through middle to bottom of the funnel. We used RACE as the checklist or syllabus, identifying the value of components in the running of a successful, scalable inbound marketing operation: The goals, audience and personas, storytelling and content types, promotion and distribution, mechanisms, lead magnets, conversion forms, navigation, customer journey, roadblocks, analytics and measurement.
Dave drilled the analytics, crunching the metrics and looking at conversion devices, whilst I looked at ways to grow stronger, more agile, and more innovative ways to create content to build value for protective customers, and the business.
As we worked through our analysis, we evaluated each component of the programme, logging our findings in the RACE spreadsheet, listing our ideas, and weighting our recommendations, so the team could prioritise our recommended remedial tasks.
Q. When Scoping out the objectives of a project with a client, what are the key methods you use to ascertain the opportunities to grow leads and sales for the business, as well as the probable solutions required?
RACE covers the full customer lifecycle or marketing funnel: Reach > Act > Convert > Engage (with an initial Plan phase for your goals and programme purpose.)
The four steps in the framework (R>A>C>E) map to your inbound marketing activities, which seek to engage your prospective customers throughout their decision-making journey, from awareness and consideration, through trial to purchase.

With the RACE framework it becomes easier to see the woods for the trees, and to focus on the components that will improve the lead-generation and sales opportunities for the business.
Of course, all activities in the inbound funnel are interdependent, some being in the top of the funnel and others further down, so we start at the top and work through to the bottom. However, often what you find is that the most wasteful leaks occur in the middle of your funnel, (like poor conversion forms,) so if improving search-friendly blog posts in the top of the funnel is a priority, only do this if you also improve the conversion forms, like a newsletter sign up, in the middle of your funnel. Spending money on the former would not result in improvements, unless you also did the latter.
By the end we listed 10 top priorities. These needed improving first and foremost. Hence, we could have put the accent on improving content quality, but instead we put the accent on improving actionable personas. In other words content problems are referred problems that stem from further up the process. See below: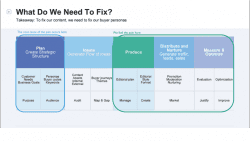 Q. Scope run-away is a common problem with marketing consulting projects – where a myriad of programmes are identified, and the project becomes larger than the client intended.
How can consultant best manage client expectations and how useful is the RACE framework for establishing a project's scope?
When you work as a consultant, being disciplined about your work packages and managing client expectations is critical to sanity and pay cheque. Being clear takes practice and working up a detailed consulting proposal takes time, and you need to know the value of your expertise, and how long key tasks will take, precisely. So RACE works at the proposal stage.
The framework is so granular at defining tasks, that we were able to offer two clear and distinct levels of intervention, each corresponding to a different timeframe and budget.
This way we avoided scope creep from the outset, by identifying for the client what was covered in each of our work packages, and the output and deliverable, as well as what fell outside the scope of the project. So, no confusion or misunderstanding.
After we concluded our work and we'd made our recommendations in person to the team, we were able to specify further work streams, like training workshops and seminars.
Q. When faced with a problem that could be addressed in multiple different ways, how do you assess which marketing technique or combination of techniques will be most effective?
When you're faced with a multiplicity of possible actions, and you need to decide which tool or process will best improve marketing performance, it helps if you have the overview, and you're on the receiving end of recommendations from expert contributions, and in-depth strategists and case studies.
Essentially, to give the best advice, you've got to be up to date, you've got to be a listener, a magpie, someone who is curious and constantly on the lookout for the best examples of best practice, observing and learning, so that you can in turn, pass your knowledge on to others.
In your tool bag there will be things you've experimented with yourself, with other clients, with your own business, that you can vouch for, and there will be others that you've observed and have been reported to you. In all cases its best knowing something works and being able to show the metrics that underpin the performance.
We also identified 6-8 tools across our 30 key categories of digital marketing tools – see full Martech options wheel.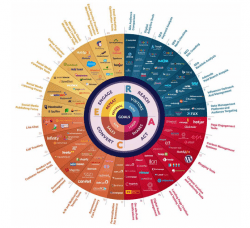 With our approach to using the RACE framework to review and improve an inbound marketing programme, we provide cases throughout from the digital ecosphere with performance metrics to underpin and justify our choices of solutions. This was the case for all the recommendations we made for improvement, including a proposed Interactive Marketing App, to be added to the top of our client's inbound funnel, that we could justify with marketing intelligence data we collected from the case history.
Q. Often clients can be reluctant to make major decisions and lean heavily on the consultant to make big calls regarding strategy, as they trust their expertise. This can leave clients ill-equipped to continue with the optimisation of the project once the consultant moves on. How can consultants give their clients the tools needed to confidently make bold changes to their marketing strategy when they are needed?
The RACE framework is a distinct process model that acts like a syllabus, helping marketers put the RACE principles into practice. Dave and I are teachers in everything we do, and we're collaborative in our approach, so although we won't do the work for our clients, we do offer on-going guidance and ask for accountability.
We discussed the issue of accountability and the importance of analytics in our popular slide deck:Â 
Accountability moves the needle when it comes to action, and is good at ensuring work gets done (people don't like change), so goal setting and reporting systems that measure the impact of future performance improvements are key to helping bring about the bold changes that are needed from a team that might otherwise struggle to find the confidence to drive big changes.
To give you an example, when we start work with a client we ask for access to analytics and we use a capability audit to assess the team's inbound and content marketing prowess, plotted on a continuum.
This early assessment process helps the team consider their weaknesses and consider the risks of sticking with the status quo. When we review capability measures, we find they are a big motivator of future performance improvements.
However, the biggest step-change is mindset. Marketers are experienced at describing the value of their products and services. But to be successful with inbound marketing they need a different mindset, as experts, educators, and carers, who have the empathy and detachment from product to nurture buyers through the early stages of the journey.
So, once the team have worked through RACE, and reevaluated their audience personas, themes, calls to action, distribution channels, content types, editorial calendar, conversion devices and KPIs, we try to get them into the mindset of a magazine publishing company, that put the persona and the buyer lifecycle at the gear of the activity, rather than working under a campaign-driven marketing mentality.
That kind of mental step change takes time, but RACE is a formidable tool for staying on track and readjusting.
Q. Content marketing strategy tends to be constantly evolving – it's the nature of our fast-paced industry. Given this, how does the RACE framework allow the consultant to remain involved as a client continues to optimise a project after it has been launched?
Strategies evolve. But RACE has permanence in activities across the lifecycle that will always require management and optimisation. So, for me, RACE gives me and my client a structure we can come back to, time and again. The components within the framework will evolve, but the framework itself is steadying.