Expert commentator | Smart Insights | Thu, 13 Oct 2016 08:00:00 +0000
Tools to Monitor Search Engine Positions For Startups
Organic search is a cost-effective channel in marketing departments for most established companies who sell their products online.
For startups, a comprehensive organic acquisition strategy would usually not be the first area to concentrate on, as focussing on paid search and paid social to drive traffic would be a quicker way to test conversion of new products in the market.
With the data and learnings from paid search, it usually can then make dipping the toe into organic search that much easier, as you'll at least know which search terms are worth the time and investment for both content creation and which pages are the most important for your business.
To monitor current and future positions of keywords, there are a great many SEO tools out there. But which ones out there are reasonably priced for a startup? And what do you get for your money? In this post we recomend three tools that may be useful options for any new and growing business.
AWR comes in two flavours, desktop and cloud. The desktop software runs on your own machine, and can be run as is, or you can set it up using 'proxies'.
Using proxies enables you to track more keywords and gain ranking data faster, as it will be easier to avoid any penalties to an IP address for not being friendly to the search engine. Using proxies is generally only needed once you need to check positions on-demand, or if you are checking a large number of keywords.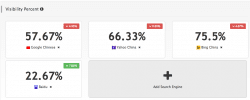 AWR makes it easy to track different search engines
The cloud version of AWR is ideal for in-house SEOs running international strategies who need to track a number of keywords globally, due to the reasonable price (from $49/mo for 2000 keywords) and the number of different international searchengines which can be monitored.
The desktop version is priced between $199-$2999, and is a one-off lifetime licence. The price for the cloud version depends on the number of keywords. The cloud version also has API access for the top priced tiers, which could be useful for agencies or larger companies who build their own data dashboards. AWR can be tried for a month with a free trial.
Best for:
AWR Desktop: Great if you'd prefer a one-off cost. Small agencies or consultants will especially find this tool useful for research and reports.

AWR Cloud: Great value for in-house who need to monitor international SEO efforts. API access could be useful in data-hungry organisations.
Moz (formerly known as SEOMoz) has been around a while, and has a strong community who share thoughts and content about the industry as well as founder Rand Fishkin's legendary 'Whiteboard Fridays'.
Although the Moz Pro ranking section is not as flexible or as quick as the other tools listed here, they have added some unique features which are well presented. The image below shows a relatively new feature, which shows extra information about the SERP (Search Engine Results Page). These features are those such as reviews, video and Adwords. All important and ever present factors when considering rankings for a given keyphrase and when research strategies to improve organic visibility.
A Moz pro subscription includes a suite of tools, such as '
Open Site Explorer
', useful for checking links and their Mozbar, to check page level data at a glance whilst browsing. The Moz pro pricing starts at $99/mo for a maximum of five projects, containing 300 keywords in total.
Best for: If you need the other established tools Moz provides with a pro login.
I had never really thought of using SEMRush to monitor keywords before, but earlier this year I discovered that the project feature which has had an impressive interface redesign.
Even better for startups, there's a free version of the tool. This allows one project and tracking for 10 keywords.  This may be enough to get started, but the pro version starts at just $69.95/mo, allowing 5 projects and 500 keywords in total.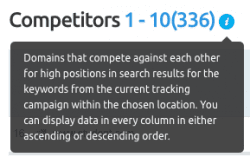 Rather unusually, the ranking data SEMrush provides is updated every 24-48 hours, and tracks performance against the biggest competitors in organic search.
Best for: If you only need to monitor one site and would like daily ranking data. If you only   budget to pay a recurring cost for SEO software the free version is worth trying.
Other SEO tools worth considering
Many SEOs swear by a Ahrefs, which is not one I've used recently. It was known for it's comprehensive link database and excellent interface. This tool also has a free month trial if you'd like to test it.
All startups should also make sure Google Search Console is setup correctly, as this will give access to understanding a great many things about how their website is perceived by Google, as well as some keyword-level data that is not shown in Google Analytics.
There's way too many tools out there to cover them all, but this should help start-ups understand a few based on those I've found useful whilst working at startups for the last few years. Let us know in the comments if there are any services that you would recommend above these.