Dave Chaffey | Smart Insights | Mon, 19 Dec 2016 09:00:12 +0000
A process for creating a multichannel marketing plan combining the SOSTAC® and RACE frameworks
As we head into 2017, we've been refreshing our planning frameworks and the infographics to help visualise them. At this time of year, many are reviewing their options for growing their business using improvements to their multichannel marketing.
Our Multichannel Marketing Growth Wheel infographic gives a visual view of key planning activities that are needed as part of the process of producing an integrated digital marketing or multichannel marketing plan.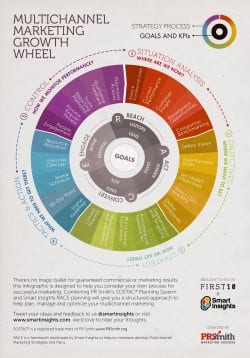 We originally created the Marketing Growth Wheel infographic back in 2012. In his post introducing the infographic, Dan Bosomworth explained:
"Our Growth Wheel uses a standard SOSTAC® approach to planning, but applied to using digital technologies and channels to create growth for a company. It's based on our experience in planning and implementation for many projects we've been involved with over the last 12 years or so. We've designed it so that it can work across a range of sectors and company sizes.

At its heart, it's focused on how to achieve business value through interactions with customers online and offline. The centre of the chart shows the broad goals to consider that can be delivered through effective customer interactions in lifecycle of Reach-Act-Convert-Engage".
We have since updated the growth wheel to incorporate PR Smith's SOSTAC® model more closely and have redefined the main multichannel planning activities of the Smart Insights RACE Planning system included in our Digital Marketing Strategy Toolkit and in PR Smith's How to create the Perfect Digital Plan using SOSTAC® guide.