Robert Allen | Smart Insights | Thu, 27 Oct 2016 15:00:00 +0000
76% of adults use multiple devices to access content- only a tiny minority uses desktop only
The results of Comscore's 'Cross-platform future in focus 2016' make for interesting reading. One of the most interesting charts from the report show just how tiny the number of people not using a combination of devices to access content online is. For those aged between 18 and 34 only 3% are only accessing content on a desktop device – if trends continue then the figure for December 2016 will be less than 1%.
But we're not seeing a dramatic shift to pure mobile – instead users are making the most of both mediums and utilising desktop and mobile together in order to suit whatever their needs are at the time. This explains why we are seeing high levels of mobile traffic on ecommerce sites but very low mobile conversion rates. Those people browsing on mobile are converting – it's just that they're switching to desktop to do so.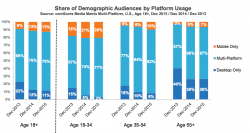 The ramifications are clear – marketers should be making seamless experience across devices a priority, and looking at ways to help users switch between devices and start where they left off, rather than re-find what they were looking at.