Expert commentator | Smart Insights | Thu, 08 Dec 2016 09:00:00 +0000
Stay ahead of the curve with these essential 2017 retail trends
There are lots of exciting new digital technologieis for retail marketers to explore next year, including: chatbots, social commerce, Google Beacons and virtual/augmented reality.
Retail marketers have had to be patient over the last few years. We all know the future lies in creating a seamless shopping experience between online and offline consumer habits. And we know personalised, targeted messages are the way to guide users from one habit to the next.
The problem is, we don't really have the technological means to do all of this in an integrated way yet. Despite all the talk and ambition, the necessary technology isn't readily available, affordable or practical enough for retailers to implement on a wide scale.
However, 2016 has felt like a genuine turning point for retail marketers. We're almost there. 2017 could finally be the year retail marketing comes of age.
Chatbots are connecting brands with individuals
Chatbots have written a lot of the marketing headlines this year and the technology is coming of age just in time for 2017. There's no doubt this is going to change the way brands and consumers interact and we're already seeing a number of innovations from chatbot developers:
One-on-one chats with consumers
Personalised marketing messages
Personalised shopping experiences
Faster product searches
Faster shopping and payment processes
We've been talking about personalised marketing in the industry for years now but chatbots look like the first platform to really make it possible. Third-party providers like Facebook, Google with its Assistant and Kik are making this technology accessible and affordable to retailers of all size. The age of personalised multichannel marketing has finally begun.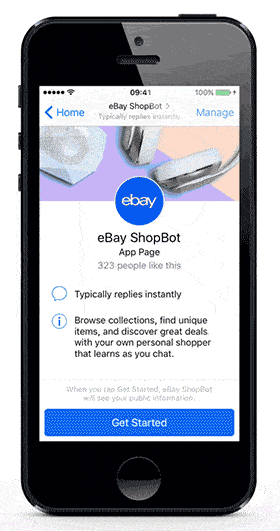 Social commerce is happening (and users don't mind after all)
Social commerce had its doubters from day one but it's happening – and it turns out users don't mind after all. Research on attitudes to social commerce from Marketing Week shows the buying intent behind people's social interactions with brands: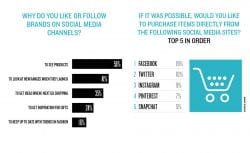 *Source: Marketing Week
It's no surprise Facebook is leading the way here. Aside from being one of the biggest names in chatbot technology, brands can now sell products directly on Facebook and users are coming around to the idea of social networks playing a key role in their buying choices.
Beacons about to finally take off?
Back in 2013, Apple captured the imagination retail marketers everywhere when it announced its beacon technology, promising to revolutionise the in-store shopping experience.
However, beacons never really took off. Aside from some installation and maintenance challenges, most implementations require users to download apps and opt in to receiving messages – hardly a smooth experience.
Google is planning to change all this, though. Google's own beacon technology will allow you to connect with users via Chrome for Android (and later iOS). So shoppers will be able to opt in with a single tap, no app download required.
So it seems 2017 will be the year we find out if beacons can revolutionise retail marketing in the way it promised three years ago.
All eyes on virtual/augmented reality
All the tech giants are telling us virtual/augmented reality is the future of marketing. With interactive ads, 3D product demos and more personalised messages users can almost reach out and touch are supposedly where we'll be investing our marketing money.
It all sounds very exciting, of course, but it feels a bit like an expensive gimmick at this stage.
There's no doubt VR headsets will be hitting the market over the coming years and we'll see more augmented reality games like Pokémon Go in mobile app stores. There are some genuine uses where you can imagine virtual/augmented reality proving useful too: travel, real estate, fashion and various other industries.
Either way, virtual reality is coming and all eyes will be on what the tech firms pioneering it can come up with in 2017.
Some of the trends we've looked at today are guaranteed for 2017 while others still have a lot to prove. Chatbots are the exciting new addition to retail marketing channels and social commerce has gained some serious pace in 2016. So next year is shaping up as a big year for retail marketing and it will be interesting to see if beacons and VR show any signs of living up to the hype.