Expert commentator | Smart Insights | Tue, 06 Dec 2016 15:00:00 +0000
How and Where to Add Chat To Your Website
I'll start with a simple question: Are you actively interacting with visitors to your store? If you own a physical store, your answer is probably 'Yes'. But if you operate a virtual storefront – a website – and you're answering 'No' to this question, you're leaving a lot of visitor questions unanswered. And since people who don't get their questions answered are less confident and engaged shoppers, they're more likely to leave your website. And too many bailouts will kill your conversion rate.
Picture yourself in shopping mode: even if you know exactly what you want, and from which stores you'd consider buying it, you usually have at least one lingering question. For example, if you're shopping for shoes online, you might not be sure if the website you're visiting offers black suede shoes in your size. Or you might wonder if they can deliver shoes to your doorstep within two days, and if they offer free returns. If you don't get these answers within a minute or so you'll leave the site and visit another shoe seller who cares enough to address them.
So, how can you create this essential dialog? It's as simple as adding online chat to your website. Already have chat? That's great! It's likely, though, that your chat user experience isn't as good as it needs to be to fully satisfy your visitors. Haven't plugged in chat at all? No problem, many cost-effective chat tools have appeared on the market in recent years, so it's a great time to choose a vendor and start chatting.
I'll get to chat tool specifics in a minute. But first, let me cover a few chat facts.
Why you need to use live chat
Visitors who chat convert at roughly 8 times the rate of non-chatting customers. How do I know this? Well, based on consulting I've done for 30+ ecommerce clients who sell everything from auto parts to surveillance equipment to traffic school, I know that overall conversion rates for unassisted sales of discretionary products are typically in the 1.4 to 1.8% range. And, based on discussions with customer service team managers, I know that conversion rates for chat-assisted sales are in the 15 to 20% range. This is where I get the 8X factor (on the low end).
I also know that visitors who have been helped by a knowledgeable rep who has a pleasing, caring personality, are more likely to return to a website and buy in the future. In other words, the effective conversion rate for returning visitors who participate in chat is even higher – more like 25%. That is a 14X chat-assisted conversion multiple! So, if you want to turbo-charge your funnel conversions, you've got to get chat installed soon.
What to do If You Already Have Chat
If you already have a chat app installed, you need to optimize it, in this order:
Improve the chat User Experience (UX)
Make your chat support more visible
Hire and train more support reps
Train your staff reps in sales and service best practices
Improve your chat UX from both the inside and from the outside. Improve it from the outside by tapping an existing designer, or UX consultant, to configure the chat layer user experience so that it's most appealing. Consider adding an image of a friendly customer service rep (it doesn't have be your rep, but he or she shouldn't look like a stock model). Consider requiring an email address for visitors to initiate chats. I used to consider this a no-no, but it's more common nowadays, and of course ensure that you'll be able to follow up with 'warmer' prospects.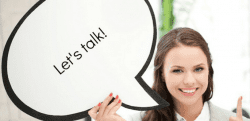 Once you've done this you should make your chat more visible. In addition to adding a 'chat' link to the top right corner of your website's header area, you should:
Add a chat link near the 'add to cart' button on the Product page;
Add a prominent chat link on your Cart and Checkout pages;
Push chat invites to visitors who haven't interacted with a page deep in your funnel (product page, cart page, shipping page) within a specified number of seconds;
Keep in mind: while people visiting your website can perceive most of your page, their visual focus area is only the width of two thumbnails (when you hold your arms extended). So the chat link needs to be 'duh' obvious for it to be seen by most visitors.
Regarding training, Dale Carnegie offers customer service training modules starting at just $99 per student. A few of their core training courses, coupled with your internal sales training should do the trick. If you're willing to invest more, check out Zappos.com's 'School of Wow' training, which is held onsite in the Las Vegas area.
What to Do if You Don't Yet Have Chat
Don't have chat yet? If this is the case, your first order of business is to research and select a chat tool. After you've decided on a tool you'll need to:
Integrate the chat tool with your website backend and customer service application
Add a chat link to your site header (for starters)
Hire some chat (or hybrid phone/chat) support staff
Train your staff reps in sales and service best practices
Continue with the above chat optimization steps
While I don't endorse any particular chat tools, the Freshdesk, BoldChat and SnapEngage tools are good overall. If you're on a really tight budget or are seeking a chat tool that's part of an all-in-one visitor analytics suite, check out the basic chat tool built into the LuckyOrange suite.
To staff your chat, be pragmatic. You don't necessarily have to hire chat-dedicated reps as you are ramping up this customer contact mode. Cross-train a few of your phone reps (ones who can type reasonably well) on how to do chat support. And give them extra love, training and support, because you'll find these flexible 'hybrid' reps are worth their weight in gold.
Don't dally! Give yourself 45 days at most to finish your research and get a tool plugged in. And don't worry if you don't have the perfect tool for your initial launch. Just makes sure it integrates with your customer support service so that you can collect a log of visitor discussions over time, and you can do things like push populated carts to more engaged chatters, and save chat discussions to the prospect's profile (associated with their email address).
Chatbots, uh, what?
There's a new chat game coming to town that I wanted to make you aware of – chatbots. What the heck is a chatbot? A chatbot is a service, powered by rules and sometimes artificial intelligence, that you interact with via a chat interface. The service could be any number of things, ranging from functional to fun, and it could live in any chat product (Facebook Messenger, Slack, Text Messages, etc.).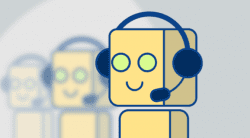 Two kinds of chatbots exist now: bots based on a set of strict rules, and others based more on flexible machine learning. Rules-based bots are very limited. They can only respond to very specific commands. If you say the wrong thing, it doesn't know what you mean. These bots are only as smart as they are programmed to be. When you're interacting with bots that use machine learning, on the other hand, your language doesn't have to be ridiculously specific. Since these bots understand the nuances of language, not just commands, they continuously get smarter as they learn from the conversations it has with you and others.
Here's the #1 reason you should care about chatbots: According to an April 2015 Business Insider article, for the first time ever people are using messenger apps more than they are using social networks. Let that sink in – people are using messaging apps more than Facebook, Twitter and other social platforms combined. I can see it with my 13-year-old daughter's heavier use of SnapChat than Instagram. Simply put, if you want to build and grow business online, you need to build where the people are. That place is now inside messenger apps.
I'm personally very excited about the prospect of messaging-based chatbots and other intelligent agents. Why? Because I need tools that will help me get things done more efficiently and with less of my interaction required. I'm very optimistic that chatbots and intelligent agents will get us there within 3 to 5 years.
Plug those dialog leaks now
By engaging in more chats now you'll both answer questions directly and start gathering a list of questions that you can answer directly via the content on your website. This reactive turned proactive approach will convince your visitors that you know who they are and what they want. And human psychology shows that people who feel listened to and understood are more loyal to you and likely to buy
Here's the bottom line: if you don't have chat on your site you're losing sales big time. And if your chat experience or agents aren't strong you're still losing those higher-rate conversions that will result from having a human connection with your visitors.
Never forget that online selling is about talking with your prospects, having dialogues that expose and answer open questions and concerns, and show that you're a brand that cares. Newer messaging-based chatbot tools will only improve these interactions by automatically answering the most common shopping questions. Do chat right and you'll see your conversion rate and revenues grow soon, and your brand image improve.