Robert Allen | Smart Insights | Tue, 18 Aug 2015 07:39:23 +0000
Are you exploiting the scale and marketing options of YouTube?
YouTube is no longer a new media platform, this year it enjoyed its 10th Birthday! You'll know it's big, which gives opportunities to reach mainstream and audiences as shown by these latest stats from YouTube:
YouTube has more than 1 billion users
Every day people watch hundreds of millions of hours on YouTube and generate billions of views
The number of hours people are watching on YouTube each month is up 50% year over year
300 hours of video are uploaded to YouTube every minute
~60% of a creator's views comes from outside their home country
YouTube is localized in 75 countries and available in 61 languages
Half of YouTube views are on mobile devices
Mobile revenue on YouTube is up over 100% y/y
More than a million advertisers are using Google ad platforms, the majority of which are small businesses
Creative use of YouTube has changed the way people engage with video and our lexicon as offline media discusses the latest YouTube meme and the popularity of vloggers as shown by YouTube's 10 year Birthday infographic.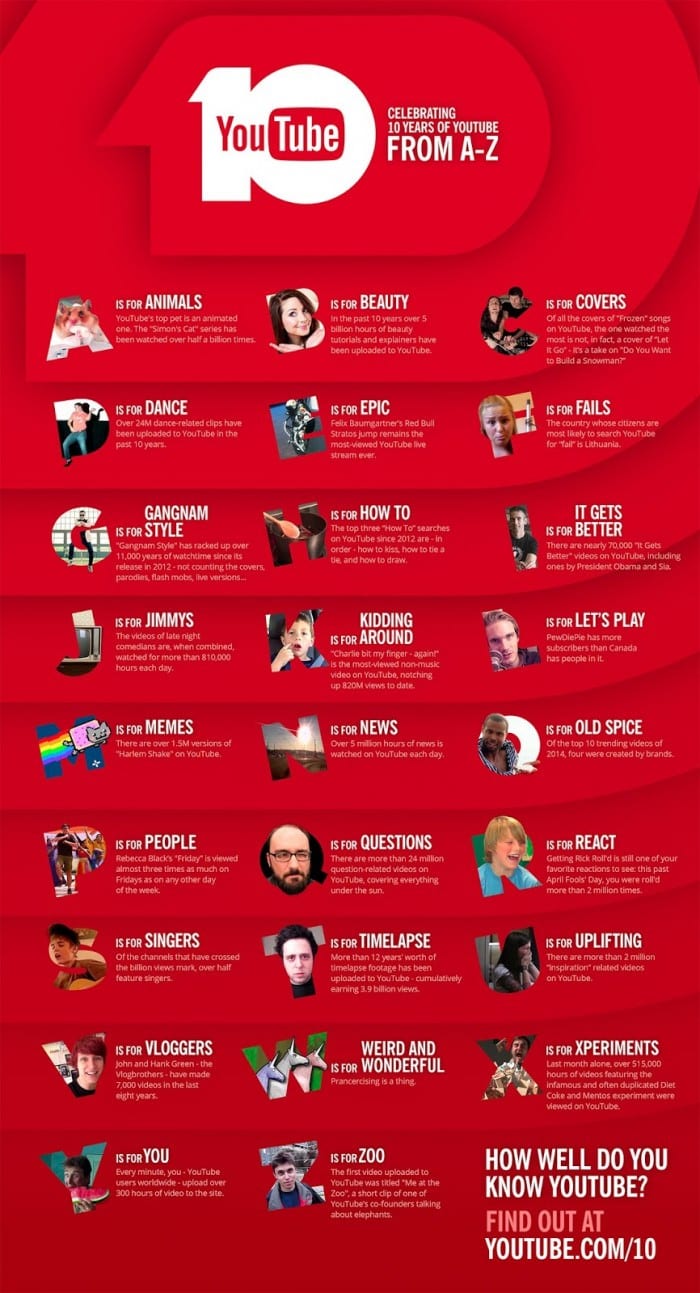 Using YouTube for Marketing
From a business point-of-view, YouTube Marketing has introduced new techniques that many businesses aren't yet exploiting. Our YouTube guide steps you three these opportunities for marketing on YouTube.
1. Assess different ways you can use YouTube for marketing.
2. Using YouTube to inform and educate your audience.
3. Researching video content ideas.
4. Using YouTube to support conversion.
5. Leveraging the YouTube community to promote your video.
6. Branding your YouTube channel.
7. Increasing your reach and visibility.
You can also explore opportunities for YouTube Marketing on this infographic.

This YouTube in 2015 infographic courtesy of the Business School at Syracuse University.