Robert Allen | Smart Insights | Mon, 31 Oct 2016 15:00:00 +0000
47% of the 100,000 most popular sites now contain one or more Facebook technologies, giving Facebook unprecedented access to data and web traffic.
The results of the new study from SimilarTech shows the scale of Facebook operation beyond its own domain, with insights on the platform's reach and exposure through the use of Facebook technologies, giving Facebook its competitive edge on audience data and referral traffic to its site.
This enormous audience reach has been achieved through the widespread popularity of the company's technologies and plugins such as 'share buttons' or 'comment boxes' on 3rd party sites which deliver traffic to Facebook and strengthens the presence of the Facebook brand across the web.
The most popular technologies from Facebook being used on the top 100k sites are Facebook Connect, followed by Facebook Social Plugin and Facebook's Like Button.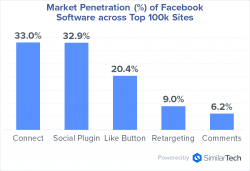 While Facebook web technologies are present in almost any content-oriented site on the web, for the first time we are able to see the magnitude of their operation in terms of reach.
Considering Facebook's brand reach resulting from the visits to the sites currently using Facebook technologies, the exposure of Facebook grows tenfold. Facebook is indirectly accessed by more than 300 billion visits in Sept 2016 which were exposed to Facebook products on 3rd party sites.
The Facebook Social Plugin is present in more than 17 million websites, making it their most widely used technology. It's important to take into consideration that while some Facebook technologies such as Facebook Comments are embedded in fewer sites (1.3 million), many of the domains where they are used are major media outlets such as USAtoday.com, Politico.com, NFL.com and Vice.com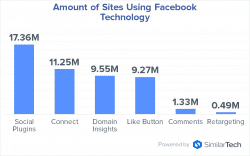 Facebook's online presence seems stronger than ever and it shows no sign of decline, especially when they have managed to create technologies which sites across the web have become so dependent on.
Read the full research findings on this link.