Robert Allen | Smart Insights | Wed, 14 Sep 2016 11:30:00 +0000
Marketers know the strategies that are most effective but have trouble implementing them.
For me the most interesting finding from our recent research into digital skills wasn't that only 14% of marketers think their any good at mobile marketing, or that there is evidence of a major skills gap with employers reporting difficulties hiring for a number of digital marketing roles. From my perspective the single most interesting finding was the huge disconnect between what marketers think are the most effective strategies for improving digital marketing effectiveness across their organisation, and what the organisations are actually doing.
The chart below shows what over 700 marketing professionals think are the most effective methods for improving digital marketing effectiveness across their company. We see that top is a planned approach which uses analytics and continuous optimisation, and bottom reactive unplanned approach. Only 14% thought the unplanned approach was effective.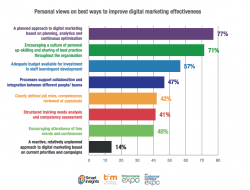 Then when we asked what techniques their organisation actually used. Surprisingly the one rated as least effective by a huge margin was used by over half of business. Less than 1/3 had implemented the kind of planned approach which 77% of marketers recognised to be the most effective, whilst less than 1/5 thought there was an adequate budget in place for investing in staff development.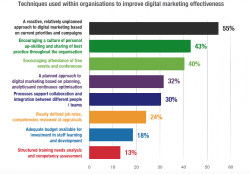 Clearly this shows massive scope for improvement by marketing departments. Departmental heads or CEOs should work with their staff to move away from a reactive approach towards one with better-structured planning and a focus on analytics. Increases in training budgets may be required to achieve this, but this is a small price to pay for a better functioning team that can deliver far superior results.
Sample size:Â 718
Date:Â September 2016