Expert commentator | Smart Insights | Thu, 03 Nov 2016 09:00:00 +0000
Expanded Text Ads re-write the Ad Words rulebook. Don't miss out on their benefits.
Google's new Expanded Text Ads (ETAs) have been a real game-changer for pay-per-click marketers, rewriting the rules for AdWords best practice and forcing users to adapt. Almost doubling the character count allows greater opportunity to create engaging, unique content, and with Google reporting increased click-through rates of 20-30% during beta testing, it's a development that PPC managers cannot afford to ignore.
The search engine giant will be shifting to the expanded format permanently, phasing out 'standard' ads by the end of January 2017. Any experienced AdWords marketer worth their salt will appreciate the need to lead the pack and nail their ETA game before competitors know what's hit them, so here's a brief guide to doing just that.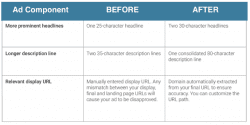 What inspired the change?
It's been 16 years since AdWords launched, during which time the platform has remained virtually untouched. However, the mobile browsing revolution has demanded that Google rethink their whole strategy for responsive layouts, and the new expanded ads are much more flexible. This is reflected by the fact that there are no mobile-specific ad formats; ETA's are omni-platform and will be displayed across numerous different screen sizes and layouts (although advertisers can still adjust bids dependent on device).
Writing killer ETA headlines
So how can you take advantage of the changes? There are now two headlines, doubling your space to really grab attention. Headlines are undoubtedly the most important elements of AdWords campaigns and they should accurately relate to the search queries you're bidding on, demonstrating your site's relevance to the reader.
The first headline is obviously the most important – not only is it the first thing that will be read, but the second headline is also susceptible to truncation in some formats. Anything that absolutely must be displayed should go in the first headline, and the second headline should be used for supporting information – Google recommends that you restrict your headlines to a combined total of 33 characters if it's imperative that you avoid truncation in any format.
When writing your headlines, it's crucial that you don't fall into the trap of simply filling up space because it's there; make sure every word is meaningful and engaging, and that what you're saying is there for a reason.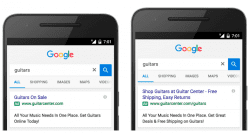 Make use of the additional space to provide deeper insight for your audience, highlighting what's special about your business and exactly what you can offer. Experiment with placing your call to action in the second headline, i.e. 'Download our free ebook' or '£10 credit for new customers', giving people more incentive to click-through and easing them through the customer journey, boosting conversion rates.
Big blue headline text is much more enticing than the standard text below, so use the extra space to your advantage.
Fluent, emotional descriptions
Google has also expanded the description field to a single 80-character limit, instead of two lines of 35-characters each. This allows advertisers to write more fluently: not only is there more space to work with, but sentences are able to flow freely instead of accommodating a line break midway through. Take advantage of this by creating emotionally engaging copy that inspires action and communicates the value that you can provide customers.
Avoid common phrases such as 'call now for a free quote', as these tend to create a false sense of urgency; quotes are generally free and users have built up an ambivalence to such directly salesy lines. Instead, try using the extra space to answer questions that will really engage the audience.
If you sell clothes made entirely from recycled fabric, for example, and you've specified 'upcycled dresses' as a keyphrase, don't open with, 'Looking for upcycled dresses?'. You know they are! Instead, use the space to describe the benefits of your product range, such as each garment being environmentally-friendly and unique.
Implementing ETAs
Although Google has reported impressive increases in CTR since introducing ETA's, they emphasise that an increased character count alone is not enough to improve your ad performance. Just as with standard ads, a period of testing and refinement is necessary to determine the optimum wording, structure and length of each ad, and this process of continual improvement should be at the forefront of your mind when designing a PPC campaign for your business.
Compare your best-performing standard ads with new ETA's, and develop them until they're delivering serious returns.
The Big Question: Will ETAs boost your ROI?
It's always important to maintain perspective, and keep in mind that an improved click-through rate is only part of the puzzle; if visitors are landing on your site but not converting, it won't matter how effective your ads are.
That's why ETAs should always be considered as part of a wider SEO strategy which encompasses every aspect of the customer journey; making sure your website is fully-optimised is a vital to the success of AdWords marketing, so take time ensure your site is properly structured to convert clicks into customers.