Expert commentator | Smart Insights | Wed, 16 Nov 2016 09:00:00 +0000
Time changes all things – Especially SEO!
You need not cast your mind back far to reminisce about a time when the principles of SEO were little more than a rhythmic check list, putting everything in its place to best support the client at hand.
Now, times are changing, not only has the landscape been forever altered by Penguin 4.0, but we now have a new concept on the rise in interest and popularity: Semantic SEO.
Saying Semantic SEO is going to change everything is inaccurate, yes, it is a different approach to SEO but not entirely unrecognizable. The most common current SEO tactic is to filter out a target phrase, use it throughout the URL and, with fortunes' grace, rank for the phrase chosen. With semantic SEO, you target a topic, not just a phrase. This is due to Google being much more competent at understanding the intentions of the user and what the phrasing they use actually means.
Semantic SEO works slightly differently; where normally you would focus on a target phrase, you would now need to find all of the semantic phrases that link to it. This increased target data needs to be used throughout the intended URLs to answer as many questions as possible connected to the broader topic. This should result in ranking for the phrase, the connected phrases and the topic.
Yes, it does mean a lot more work and effort to be put into the support required, but with more effort put into the foundation work of an article, the less strenuous the actual writing work will be. There will be those amongst the community who will argue that having the greater search term targets will mean a greater and more comprehensive article, but that is no reason to avoid it. Even if it is a longer article, the search for it will still perform better than doing the article without it.
The headlong drive into Semantic SEO stems, like all roads leading to Rome, from Google and its ever adapting scrutinising protocols. The guidelines Google set are constantly adapting to be more stringent with SERPS, Semantic SEO and long-tail keywords are being embraced to combat this. Using these fencing tactics to parry and riposte with Google, will force Google to acknowledge the definitive terms with greater accuracy and better positioning.
Information and Answers: Everything Must Have Balance
Trying to create the best article for your chosen topic is nigh-on impossible without putting enough content into it. This is not without the common pitfall of putting too much information into it, before long you will find yourself deep in the jungle without your map of answers and it's the answers that are going to make the article great.
Semantic SEO mainly bases itself in what is referred to 'Informational Queries', these are searches of people looking for answers, performing research or asking Google questions and it makes up for the majority of online search types.
Understanding what best practices to use with semantic SEO can seem overwhelming and confusing but there are guides you can use to help filter the best-extended phrases. Some examples of those are; Google Related Searches, Google Suggest, Keywordtool.io, plus others.
Results and Revelations
Once you have built your list of phrases, it is always good to have a second look at it and take a moment to consider which, if any, of the extended phrases fit best into what you were planning to write or would some of them serve you better if you saved them for another article to done at a later date that could link to your main article. Using these methods, you more than likely came to realise that your article is going to be more in-depth and informative than you realised and you find yourself spurred on to do more articles using the phrases that didn't fit into the original.
The use of semantic SEO has increased not just the pool of possible information to utilise and methods for driving data, but also the output of articles and competency of those who use it. Building URLs that deliver answers to questions in informative and detailed ways is a remarkable route to developing an audience, but we have to go beyond just choosing a phrase; we have to generate the worth of the topic by locating and targeting the semantic phrases to boost the linking between them exponentially.
A natural benefit of semantic SEO is a growth of natural back link accrual and social signals, all of which point to a greater digital footfall to your domains and URLs. With great content comes great publicity! The swell of data and content is a positive indication of increased audience engagement and interaction. Our audiences are what we strive to engage and adding a tool to your collection that will help draw their attention, is worth having.
Bucking the change of course from short-tailed keywords to long-tailed keywords is foolhardy. The greater positioning for the search results will rely more and more on long-tail keywords and detailed inquiries. To make the most of this, you must ensure you have the right content, laced with long-tail keywords and phrases to grab the search correlators' attention. Having little to no content present on the ranked page and stuffing it with links and tags will have one popular result which will be a negative visit. I mention phrases as well due to the rise of the ultimate long-tail keyword search device: Digital Voice Assistants.
A New Direction Given Voice
Digital voice assistants like Cortana and Siri have gained increased popularity since the inception of mobile and digital voice assistants. You will be hard pressed to find a modern mobile device that does not either come with one applied or supports the installation of one. From their unstable, intermittent induction, the dedicated and stellar work that has gone into creating a more robust product is evident in the use of the software. The precision, adaptability and reliability combined with specific and dependable results make them a force to be reckoned with.
As you can see from the Google trends chart below, voice searches for specific terms like 'call Dave' have increased more than four-fold over the past five years.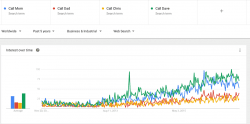 Predictably, this momentous leap in interactive technology is going to have a significant reaction with SEO strategies, this is why SEO teams need to take this event into consideration. These new virtual assistants are being hammered day in and day out with voice-based searches and it is now altering the SEO landscape and the SEO community needs to adapt to utilise this change as an opportunity, not a difficulty.
The advancement and leaps this form of search has already taken in the last ten years should form enough of a forecast to show that there will be more data to be fed into it with more backing and collaborations to take it to the next stage. With voice search on the rise, there is the potential for text search to diminish through lack of use and as that ship goes down, so too will short-tailed key words and phrases.
In closing, semantic SEO is a method that has been less used in the past but is on the rise and it is hard to argue not to use the method. Yes, it is more work, yes there is more research needed when performing it, but the rewards to be reaped will make for a bountiful harvest for both you and your clients.