James Carson | Smart Insights | Thu, 15 Sep 2016 08:00:22 +0000
Which digital marketing activities you should keep in-house or outsource?
The companies that continue to move to a more integrated digital model while managing their Digital Transformation process, may be left wondering which activities are best to be outsourced and which are preferable to keep in-house. It is very common for companies to outsource at least part of their digital capability, but this is likely to affect how well they can move to an integrated model. But what are the particular disciplines most suited to outsourcing and what is preferable to keep in-house?
The 'Slow Burners' vs. Campaign Based
When we think of digital marketing activities, there are many that need to be managed, but let's consider the following eight key disciplines covering paid-owned and earned media and managing the customer experience should sit within an organisation:
1. Email marketing
2. Social Media
3. Paid Search
4. SEO
5. Display advertising and retargeting
6. Content Marketing
7. Customer / User Experience
8. Analytics and Conversion Rate Optimisation
Some of these, such as content marketing and analytics are clearly more 'general skills' than ever, and they fit with the T-shaped marketer that requires a specialism and aptitude in a number of other disciplines.
From the list above, you could say that SEO, Content Marketing and Social Media commonly cross over with a number of departments within an organisation, and are best suited to T-shaped people. Therefore, they can be seen as fairly 'general' disciplines rather than specialisms.
Such general disciplines are also nearly always 'slow burners' – they continue almost indefinitely within an organisation and are not campaign based. Added to this is that they nearly always need consistent brand voice and definition.
Slow Burner Generalism = Inhouse Preference?
Slow burners are typically continuous or 'always-on' digital marketing activities that are needed to achieve ongoing online visibility and audience engagement. They include content marketing, SEO, social media and lifecycle email activities.
All of these factors point towards using in-house resources to execute. Indeed, many companies are generally opting for this overall approach. However, there might be particular tactics within the strategy that are best outsourced. Let's consider video or other rich media production – it's quite likely that a company wouldn't have these specialist skills in-house, thus they would be good to outsource.
When Outsourcing a Generalism is a Good Idea
It's important to note that even if there is a preference for insourcing general skills may not be possible. If you are testing the waters with a new approach, or can't afford full-time resource in-house, then outsourcing is often a good idea. Basically, outsourcing a generalism to begin with can be a good way to kick-start it.
Campaign Based Specialism = Outsource Preference?
This brings us on to the 'campaign based' nature of outsourcing. The mentioned specialisms have a finite period of time from when the asset is started and ultimately produced. With this in mind, the following departmental specialisms might also be more suitable for outsourcing:
App development
Creation of campaign content assets
Display advertising
Website design and build
Pay Per click
All of these are often 'campaign based' – although it could also be pointed out that they could be done as iterative or ongoing efforts. If they have a fixed time period for completion, then it makes sense to remove a fixed cost center and outsource the requirements for whenever they are needed.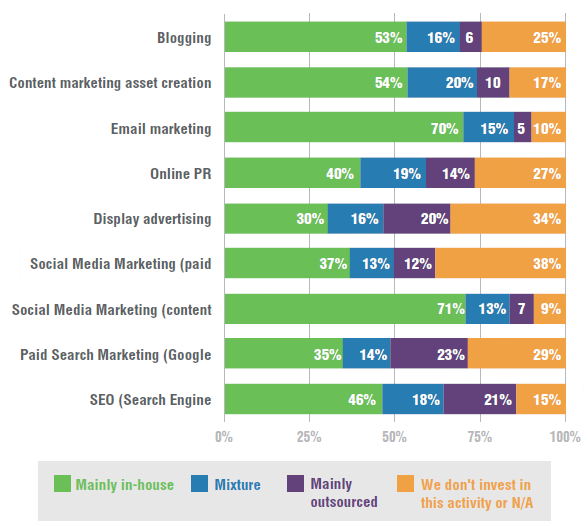 As shown by the Smart Insights research into managing online marketing conducted with the TFM shows, many marketing operations are favouring insourcing content based operations, while there is usually more outsourcing of paid activity.
The Key to Integrated Outsourcing: Trust
It shouldn't come as a particular surprise that a key component to any agency relationship is trust, but it becomes even more important when you're looking for an outsourced specialism to weave seamlessly into your organisation.
A crucial point here is that it often takes time (three months or more) for an agency / client relationship to build up the right level of knowledge of each other to be truly effective. With this in mind, it's best not to be hasty about hiring and firing agencies. Find one or more with distinct specialisms where you might be short and work on the relationship.