Expert commentator | Smart Insights | Fri, 14 Oct 2016 10:00:00 +0000
A technique for comparing and selecting the best marketing technology or tool for your business
The job of many marketers consists of countless hours doing something that can be automated. Hence why Marketing automation is growing so much in recent years. It's not just email, but also any other software that you can use that improves performance, such as automatic reporting tools, social media marketing, Analytics, SEO tools, testing tools, etc…
Believe it or not, in these marketing tools infographics, including this one from Scott Brinker you can see there are 3,874 tools in 2016 represented across 50 categories, no wonder we all walk into the jungle of marketing technology.
Over 3,000 companies in 2016, is this good or bad?
The point of this graphic is to demonstrate the following:
Marketing has become a technological discipline;
Marketers need to know how to choose the best technology;
Marketing is evolving all the time and we need to deal with it.
Over 3,000 martech companies is not all bad news, it has big upsides. And these are the following:
Marketing innovations are designed to help marketers jump into the technology revolution
If applied with sound judgment from executive-led effort, these technologies become your friend.
Problems and opportunities are clear. Each solution claims that they provide important and unique features. So how do you know which of these suppliers you can go with? How do you even shortlist them to have, say, the top 3? Is there a recruitment process to make the right decision? 
The recruitment process
There is a management tool which you probably already know, called Balanced Scorecard, which enable you to weight the importance of each requirement for the reports. Already back in 2006, an academic research of Cranfield School of Management (B. Marr & A. Neely: Automating the balanced scorecard – selection criteria to identify appropriate software applications. Measuring Business Excellence, 2006) demonstrated how the Balanced Scorecard helped organizations in selecting appropriate softwares.
The issues of choosing a software provider become more daunting depending on the size of the organization and the budget allocated to marketing technology. Every organization has a single set of requirements when choosing a software for marketing. We cannot in this article provide a list of requirements that is appropriate to every organization.
So as a matter of example to work with, let's focus on 1 software category only: automated reporting tools for digital agencies. A survey shows that among several organizations, 45% of marketers spend at least 5 hours a month exporting and formatting reports. 21% said that they spend more than 10 hours a month on client reporting.
The reasons why generating reports take so much time can be several, but to summarize here are the top three:
Analytics report must be accurate and look great with charts;
Reports have to be manually pulled from several channels (Social Media, Affiliates, PPC) into 1 spreadsheet;
They have to be sent to clients regularly to update them on campaigns results.
So imagine you are managing 30 clients and you get paid £70 per hour per client and it takes you 4 hours a month to generate a report per client: you are losing £280 a month per client. In total you might lose £8,400 a month in revenue across 30 clients for the hours you spend on generating reports. If you multiply by 12 months, you could lose up to £100,800.
These reports take valuable time away from marketers, that can be spent instead on generating value through campaigns, and valuable revenue as well.
Also, clients are busy people, they do not spend more than 10 minutes reading your reports and having an idea of how the campaign is going. Clients need to read about key KPIs, trends, how they spent their money and, most of all, results and ROI.
The solutions to this time and money consuming issue are automated reporting tools.
Think about your requirements
To help you with the selection process, you can build the Balanced Scorecard by starting from the following requirements for quality and efficiency. Note: we only list 6 requirements, but your agency is free to adopt more as needed.
Read information about the company
First of all, you need to know how much these tools cost. Companies normally charge on a monthly basis, but some also have extra for support or special features. This stage can be difficult to complete because some companies charge per client, some per user and some per period of time.
Check the number of integrations
Under this heading, you need to check how many integrations you can do and with which company. The most popular integrations are Google Analytics, AdWords, Facebook, Moz tools, Ahref. Some agencies want the software to support also LinkedIn Ads and Twitter Ads to track campaigns trends on Social Media and to provide their clients with valuable information.
The automated report is very important for an agency and for the client as well. Once integrated all channels to the software, marketers and clients just need to receive the reports in their email boxes on a regular basis that is agreed with the client (daily, weekly or monthly). Automation saves a lot of time and time, as we have seen above, means money.
Agencies do not only use the software for reporting needs on 1 client, they want a software that grows with them, the more clients an agency had the more softwares it needs. So you need to check pricing again, if the software company charges per client, per month or per user.
Under this point agencies can discuss if they want to send reports with their own branding or with the brand of the software company. It's important to check white labeling because tools sometimes charge extra for providing a unique URL that you can share with your clients such as www.report.yourcompany.com.
With this I am referring to the final user of these report, the marketer who has to build them, connect all integrations, chose a template, create the dashboard, automate the whole thing. Usability is key to help in saving time, how intuitive is the software?
Give a score to each requirement
The second part of building the balanced scorecard is giving a score to each requirement to understand both their value for your agency and their performance during free trials.
So I recommend you give each requirement a two -way evaluation:
In terms of importance weight (A), which means how important is for your agency.
In terms of score (B), which means what in reality each supplier scores for each requirement.
The importance weight is measured in numbers, from 1 to 4 where:
1 = not important
2= important
3 = very important
4= extremely important
The score (B) is measured with a number from 1 to 3 where:
1= low score
2= medium score
3= high score
Start free trials available for each reporting tool, this allows you to understand what the main weaknesses and strengths of each product are. You should be able to determine importance weight (A) and score (B).
Once you have done assigning weight and grades to each requirement and platform, you are ready to build the Balanced Scorecard table, which should look like something below.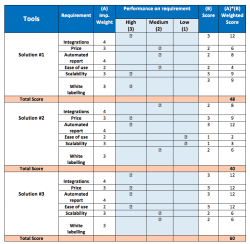 From this evaluation it emerges that two requirements are important: integrations and automated reports, this is how I define my reporting goals. These are the criteria that make the difference in the quality of my reports for clients and in terms of available budget.
Solution #3 is clearly the winner after this evaluation, if it were a real scenario, your recommendation would be to advise your management to buy this software.
Two more requirements you can also take into considerations are client testimonials (however non-biased) and technical support. These are both important to make you understand how the software vendor is reviewed in the marketers community and well and quickly they respond to customers' queries.
This is a very smart tool to use when choosing marketing reporting solutions for your agency which will save you time and money.
Conclusion
This article has two sides. First, it briefly shows opportunities and challenges of marketing technology: almost 2,000 companies can help marketers save time and money (or make money) and this can mean big rewards for those companies that have management-led approaches to technology and can choose according to their requirements.
Secondly, using the Balanced Scorecard you can swim into the muddy waters of technology by selecting the right software (I would start from those 4-5 that made it to the top of Google results) and figure out which supplier best suits your needs and those of your agency for a specific software category.