Dave Chaffey | Smart Insights | Wed, 02 Nov 2016 16:00:22 +0000
Which are the best options to increase reach for online retail sites?
The answers to these key questions for online retailers are revealed in the Custora Ecommerce Pulse which summarises online retail sales sources by channel.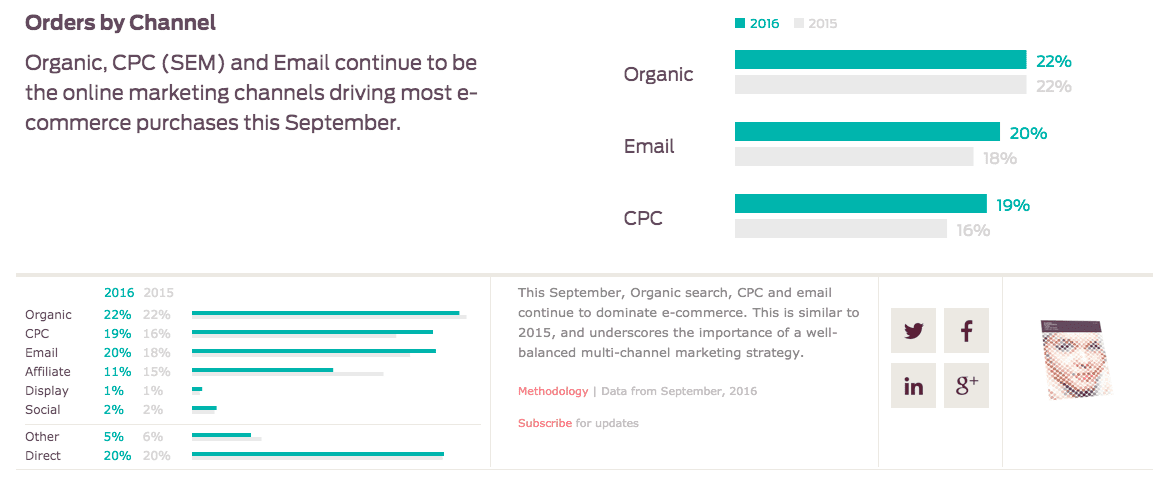 Although retailers will know their current mix of traffic which is driving sales, it's always useful to benchmark this mix against others. This chart gives the latest data from 2016Â to inform your strategy into 2017. If you are under-performing in some channels, this benchmark enables you to compare to see what is possible.
If you apply the 70-20-10 rule, this chart shows that 70% of your effort should go into the 3 main channels or organic search, paid search or CPC and Email marketing. Affiliate marketing is also important.
When interpreting this source, it's worth remembering that these stats don't show traffic sources for acquisition only, it's for all sales, so also includes existing customers. This explains why Email marketing is so high – it's an important sales drivers from existing customers (and also new prospects)
Source: Custora Ecomerce Pulse
Research sample: Primary data from actual sales amongst larger US retailers using Custora Pulse – Last click
Relevant toolkit: Learn more about increasing reach for Ecommerce through the lifecycle using our Online retail marketing toolkit