Dave Chaffey | Smart Insights | Wed, 16 Nov 2016 16:07:20 +0000
Chart of the Day: New consumer research shows why it's important to get into the primary inbox
Here's some useful insight for email marketers who are looking to understand changes in the inbox behaviour of consumers. It's a new report from the DMA showing how busy consumers manage their busy inboxes. The research looks at a range of issues including 'ghost' accounts; unsubscribes and in-depth focus on the behaviours of younger consumers, including 'Millennials and what motivates consumers to share their email address.
How many email addresses do consumers have?
This is the specific question we'll look at here. The answer is… more than you might think, although as a marketer you may have more than most.The chart shows two is most common which will typically be because people have a work and an inbox email.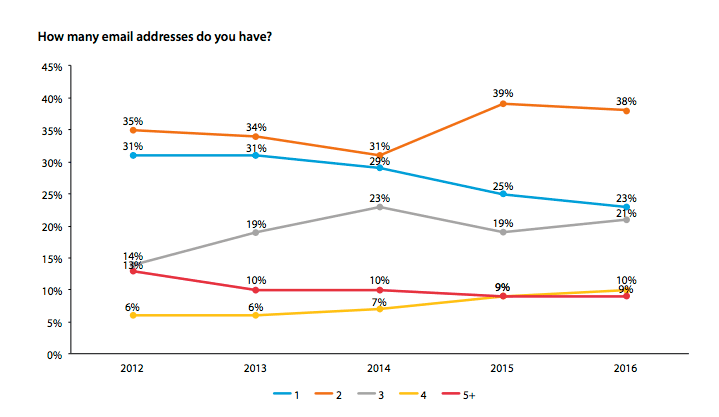 The proportion with just one email address is falling with just 23% now with a single address. Those with three or four addresses have increased to 31% from 28% last year. As the DMA observes:
This pattern makes life more difficult for marketers, with consumers using different addresses for different purposes, making a single customer view more difficult.
Why do consumers have multiple email addresses?
Here's some more details on the 'why?'. You can see that avoiding junk/spam and having an address specifically for marketing emails are surprisingly common highlighting the need to make your opt-in appeal so powerful that subscribers view you as a trusted brand and provide you with their primary email address.