Expert commentator | Smart Insights | Wed, 26 Oct 2016 08:00:00 +0000
Partnering with a supplier can save time and boost profits.
Ask any eCommerce retailer what is the number one concern they have and inventory will likely enter the equation. Fulfilling orders yourself is time-consuming and not always the cheapest option in the long run. Hiring employees to do it cuts into your profit margin.
So what's the solution?
Dropshipping.
If you haven't heard about this rising trend in eCommerce order fulfillment, let this article be your guide to understanding dropshipping, how it makes you a better business owner, and what to expect in the coming months.
What Is Dropshipping?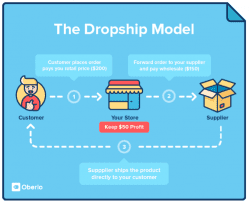 Image: Oberlo
Rather than you buying inventory, stocking it, then packaging and shipping it out every time an order comes in, dropshipping allows you to sell products that are housed by your manufacturer or a wholesaler. They store it until you sell it. And you don't pay a dime until you sell it.
The benefits here are many. For one, you don't have to tie up your money in inventory. Instead, you buy products from the manufacturer or wholesaler when an order comes in. Your risks are significantly smaller in this case – you already have the money for the order, so you place your own order for that item to be shipped directly to your customer. And unsold inventory is hardly an issue.
The fact that it requires essentially no money to start an eCommerce business using dropshipping services is an appealing one. In fact, it's easier than starting other types of businesses. You just select the products you want to offer for sale on your store from a marketplace like AliExpress, create product pages, and bam! You're selling products without ever having to touch the inventory.
You also free up your time, with none spent on inventory management or shipping. No more running to the post office six times a day! That means you have more time to focus on marketing your products and ensuring that customers are pleased.
Another benefit of dropshipping is that you can test out different types of products to see what your customers want or get inspiration from AliExpress' Best Selling category and start dropshipping it right away.
Why Dropshipping is Going to Explode in 2017
While dropshipping is far from new, it's seen a sharp increase in popularity over the past few years, likely due to a few reasons.
First of all, dropshipping solutions like Oberlo now bridge the gap between suppliers and sales solutions like Shopify to help ecommerce store owners get access to quality products without having to seek out multiple suppliers to do so. Customers get a seamless shopping experience and can even track their orders, so they're happy and your revenues rise.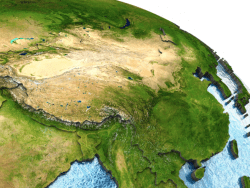 Image: PhotoSpin
eCommerce itself is on the rise (online shopping has increased 45% in 2016 alone), which means more people are spending more money on products they find online. With soaring demand, more players enter the space, and dropshipping is the solution many of them choose to adapt.
It makes fiscal sense. Rather than investing $10,000 in a product you don't know if you can sell, instead you invest nothing until you sell a product. Yes, your profit margin will be lower, but you'll still bring in money with smaller effort on your part.
How to Start Dropshipping
If you already have an eCommerce store and struggle to keep up with high minimum order requirements, or if you're running out of space to keep your inventory, dropshipping can make your entrepreneurial efforts less stressful and more lucrative, even if you're completely new to eCommerce.
If you've opened your eCommerce store with Shopify, which offers a comprehensive eCommerce store builder platform, you're already set up to take advantage of its dropshipping applications, which make it easy to add products to your store, update inventory, and track sales.
Of course, you could set up your own website, but consider the downside – you'll end up doing more work to get it up and running. When you start with a solution that has eCommerce and dropshipping working in harmony, you don't have to bridge the gap yourself by trying to figure out how to get an order fulfilled on your site with a separate dropshipping platform. You can keep inventory numbers updated (if the supplier is out of a product, it automatically is removed from your website) and streamline the order process.
Because you don't have to focus so much on inventory and order fulfillment, be prepared to spend time and money on marketing your eCommerce business. Online ads, blog posts, and social media are just part of the equation you should use to ensure that people find your eCommerce store among the thousands out there.
Another way to stand out is to find a niche. Anyone can sell t-shirts, but fewer stores will sell organic cotton baby tees, for example. So find a corner of eCommerce that you love, and one that everyone else isn't selling, and you'll thrive.
Whether you're just starting an eCommerce store or looking for a better solution to improve existing operations, dropshipping can help. By taking the headache out of stocking inventory and shipping it (not to mention processing returns), you've solved 90% of the problems that eCommerce businesses have. Now you can focus on ensuring that your brand is out there, front and center, ready for more sales.