Expert commentator | Thu, 23 Jul 2015 14:00:00 +0000 | http://www.smartinsights.com/ecommerce/customer-reviews-social-proof/harnessing-the-power-of-user-generated-content-in-the-hotel-sector/
Customer reviews and social content are powerful decision-making tools so why make consumers search for them elsewhere?
The rise in holiday and hotel research conducted online, and the popularity of social media, presents an opportunity for the hotel industry. Word-of-mouth communication has a positive influence on brand awareness, brand attitude change, purchase intentions, product evaluations and consumer expectations.
TripAdvisor's 2015 TripBarometer report found that 90% of consumers rely on ratings of accommodation on a review site. This was the second most important factor impacting booking decisions behind price. Also 85% of consumers also rely on photos and videos online.
To take advantage of this trend, hotels should use electronic word-of-mouth and user-generated content to supplement their primary marketing communication messages. Many of the large travel and tourism brands have adopted user generated content. Taking a quick look at the big three UK online travel agents, Booking.com, Expedia and Hotel.com, all of them have adopted consumer reviews in one form or another.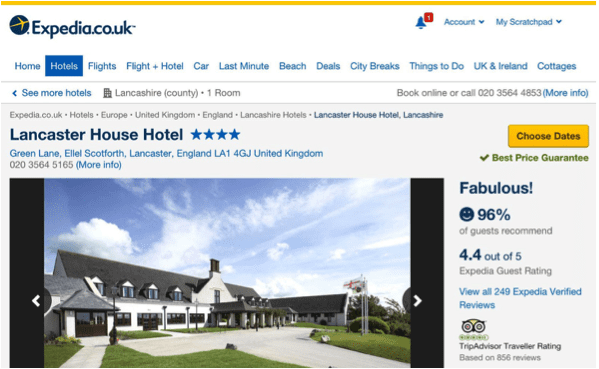 Expedia clearly displays consumer reviews from a range of trusted sources on each hotel page
However, many smaller brands and independent hotels are yet to incorporate user generated content such as rating, reviews and photos on their websites. Why?
The main barriers to implementation for many businesses is uncertainty, cost of implementation and ongoing management; especially when costs are on the rise in the travel sector.
Managers are sceptical of the positive and negative impact user-generated content may have on their reputation. It is often the case that hotel managers are reluctant to commit to user-generated content because it is likely that both positive and negative content could be published on their own website. After all, you want your shop window to be the best it can be! Adoption of such content is also resisted because of high-profile negative press review sites such as TripAdvisor have previously received.
Previous research indicates transparency and a good balance of both positive and negative feedback is better for business. According to Reevoo, 68% of consumers trust reviews more when they see both good and bad content. Bazzarvoice also found that 82% of customer reviews are positive.
The commercial research provides a compelling argument for the adoption of user-generated content. However, many of the studies often have a commercial bias and for a small business this commitment represents a significant investment. As such, I designed an empirical study to expand on prior research. The aim was to conduct a real, large-scale content experiment on a small UK hotel brand website to provide them with first-hand experience of managing user-generated content and to provide measurable insight into the impact it has on the business.
Conducting a real-world content experiment
The business already had an existing guest feedback program which collected both quantitative and qualitative feedback from guests once they had checked out of the hotel. With the customer's permission, this existing data was then used to create the content for the experiment pages. Guest photography was also manually curated from photos tagged at the hotels locations on social networks.
Existing consumer behaviour research indicates that consumers use aggregate ratings to select a consideration set. Once a consideration set is formed, they then go deeper and focus on qualitative review data. This existing body of knowledge was used to inform the overall experiment objectives and design.
The experiment layout was designed to be similar to a hotel page on review sites such as TripAdvisor, and OTA pages such as Expedia, to ensure the layout design was familiar to consumers.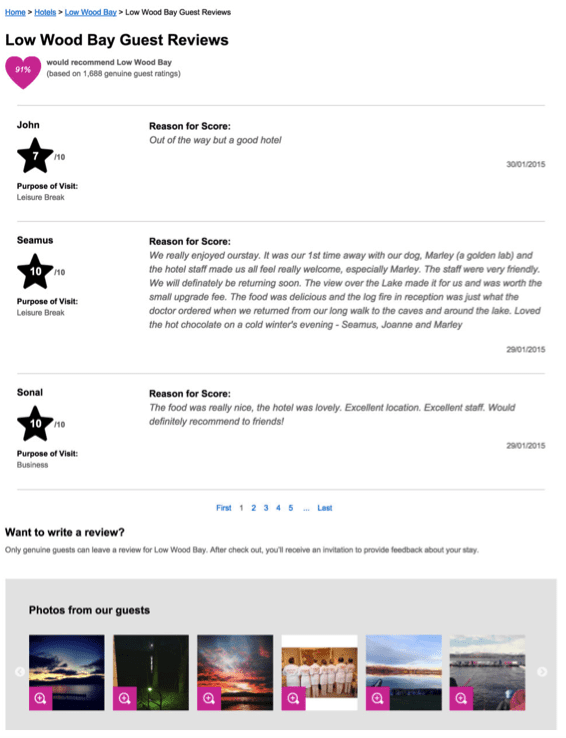 Example hotel customer reviews and photos collated for the experiment. Out of all the reviews collected in my research I found that 91% of hotels reviews were positive.
Google Analytics was chosen to conduct the content experiments and to collect the website analytical data. This was partly chosen due to limited company resources and because the business already had access to an established Google Analytics account to collect, store and process the data.
Specifically, the research focused on user engagement, purchase intention, average order value and consumer conversion when genuine, user-generated content was published on a UK hotel website.
User-generated content increases website conversion
The study established a link between user-generated content and website engagement. It found that user-generated content, in the form of hotel ratings, reviews and photography increased customer retention. Website user retention increased most for new website visitors, who were most likely to be in the early stages of forming a consideration set to assist their decision-making.
Most importantly, the study found that exposure to user-generated content increased conversion rate by 17.8%, thus resulting in more transactions and revenue for the business overall.
The study confirmed that overall, user-generated content can be useful on a small UK hotel brands website. Although the content experiment was simplistic in nature, the findings also back up previous commercial studies.
Embracing User-Generated Content
Due to the nature of the study it is unknown if the customers that resulted in the additional conversions would have booked the same hotel elsewhere. However, in a time when online travel agent commissions are rising, an increase in direct booking performance on a hotel's website is crucial to minimise acquisition costs.
The study was conducted using information already available to the business. If your business is not actively collecting content, the chances are your customers will be talking about your products online anyway!
The quantitative nature of research means that many questions are still to be answered as this area of interest matures and businesses look to invest to ensure they are maximising the opportunities available with user-generated content.
If you are still unsure if user-generated content right for your business, then give it a test! Whether you want to try using customer ratings, reviews or product photos, Google Analytics Content Experiments is great for quick conversion rate optimization testing on a static page, especially if you are already using Google Analytics. For more advanced content experiments there are many tools out there to get you started.