Robert Allen | Smart Insights | Fri, 30 Sep 2016 14:00:00 +0000
Allo, Allo, Allo, what marketing implications do we have here then?
Importance:
Recommended Source: Allo.Google.com
Google announcement this week of the launch of its new messenger app has got marketers excited. And no, it's not because of the new emojis. It's because it follows the industry-wide trend for integrating AI-powered digital assistants into messaging apps. The announcement comes hot of the heels of Facebook's announcement earlier this month which hailed the introduction of 'Messanger version 1.2', which would include facilities to let chatbots handle payments within the app.
The chat app has lots of nifty little features to tempt users, which aren't all that important to marketers. These are things like being able to enlarge or shrink text, send auto-generated responses, doodle on images or send an impressive range of stupid emojis.
The key feature from a marketing perspective is the fact the app contains a personal assistant that utilises 'Google Now', which uses a natural language interface to answer users questions. This feature can be brought into your chats with anyone using '@Google' or you can talk to the assistant directly in a separate chat.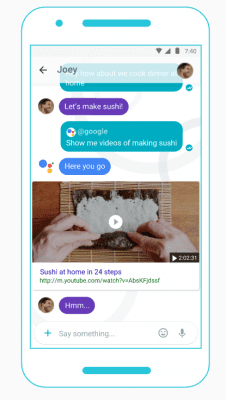 Above is an example of how you can bring in the smart assistant to a chat by using '@Google'. The way they've built the feature by using '@' rather than just having a button to bring in the bot suggests they may well do what Facebook has done and start to open up the platform to let others develop chatbots that work within the app. Below you can see an example of the way users can also talk directly with the assistant in a separate chat: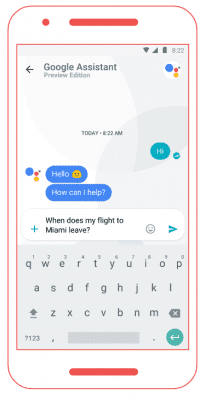 What does this mean for marketers?
The Allo app is a big move from Google. They'll probably look to make it the default android messenger app to give it a huge user base. Given Andriod has 1.4 billion users it could quickly grow to have a user base of a similar scale to Facebook Messager- putting it squarely in the top 3 global messaging apps.
Given that the AI assistant will be using Google search rankings to decide on what content to answer people's questions with- For example if they ask 'What is lifecycle marketing' to the chat they'll be likely to be shown the top ranking page for that search – then it means the important of SEO is reinforced by the app. Crucially it means ranking top of 'natural language keywords'- something Google have termed 'conversational search' is now extremely important.
The trend towards personal assistants and voice search means ranking on 'natural language keywords' is more important than ever. You should look at adapting your SEO strategy to take account of this as the trend becomes more pronounced. Identifying what natural language keywords are likely to be search related to your product/ brand is a great place to start, and then you can planning how to rank for them.