Robert Allen | Smart Insights | Tue, 29 Nov 2016 11:00:00 +0000
'Rich Cards' to feature in SERPs for new verticals
Importance: For Marketers working for restaurants and e-learning sites
Recommended Source:Â Google Webmasters Blog
Back in May 2016, Google announced the launch of 'Rich Cards' – a new way Google displays content in certain SERPs that is a lot more visual and mobile-friendly than traditional text SERPs. These differ from the already common 'rich snippets' in that, well, they were 'richer'- that is they feature even more visual content.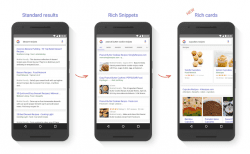 Rich cards were only available to a select few verticals when they originally launched. Just two in fact: Recipes and Movies. But now Google have announced they will be expanding the new content medium to more verticals, these being local restaurants and online courses.
Non-specific local restaurant related SERPs, like 'Best Restaurants in Toronto' etc. now will feature rich cards which display the search results in a visual carousel rather than a text list. This kind of left-right scrolling carousel is obviously part of Google 'mobile first' design philosophy, because left-right scrolling is far easier than up down scrolling on a mobile device. Don't believe me? – hold up your hand and waggle your thumb left to right. Now move it up and down. Which was easier? The first right? That's because the 2nd requires bending your thumb joint, whilst the first lets you keep your thumb straight. Turns out those opposable thumbs are just as useful for left-right scrolling as they were for picking up sticks on the savannah 2 million years ago.
But I digress.  Point is, they will be featuring in SERPS and represent a fantastic opportunity for your brand to stand out with some eye-catching visual content. Google have provided a preview of what the rich cards will look like for SERPs relating to local restaurants and online courses – the two new verticals that are getting these online snippets.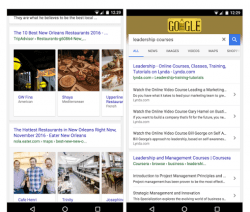 Rich cards are designed to work with the new AMP pages Google is pushing. The idea being users will be able to swipe between relevant AMP pages, such as different recipes on your site or different recommended restaurants.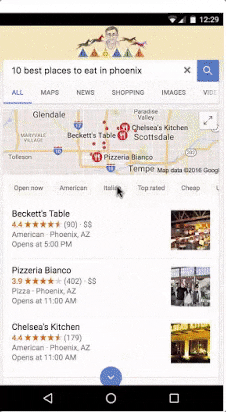 So if haven't already set up AMP pages and you are in the verticals covered by the new rich card changes, now is the time to do so.
If you need more information on how to set up Rich Cards for your site, you can see how on the Google webmasters blog.