Robert Allen | Smart Insights | Tue, 25 Oct 2016 14:00:00 +0000
Mobile versions of Facebook business pages user interface are given a major overhaul, which promises to benefit small businesses
Importance: (For Businesses using Facebook pages)
Recommended source: Facebook's announcement
October 2016 update:
Facebook announced last week that it's let business pages use a series of new 'Call to Actions' to provide users with a seamless mobile experience. This will be good news for businesses using Facebook pages – particularly small or micro businesses that wouldn't otherwise have the resources to create the best mobile experience.
These new call to action buttons won't link through to the business's site (which may not be mobile optimized) like the old ones did, but instead they'll take prospective customers to a simple form that's easy to complete in a few taps of the thumb.
In addition, rather than being 'one size it's all' you can choose from a range of different buttons that let customers order products, book appointments or buy tickets. Â This means a takeaway can let people place orders, whilst a dentists can let users book appointments, all on simple and easy to use forms designed specifically for mobile devices.
Integration with Facebook Messenger
If the call to action options don't fit your businesses perfectly, Facebook have also created another option to let people use the Call to Action button to automatically send a message on Facebook Messenger to your page asking about your services. You can also link through to the shop section that you can create on your Facebook Messenger, which is great news for eCommerce business.
The messages available at the moment can be used to:
Get a Quote
Request a Time
Shop Now – takes users to your shop built within Facebook. Purchases can be completed through Messenger.
The image below show how one of these Messenger based call to action buttons work: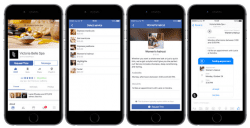 ---
Update from December 2015:
It's been a good year for Facebook getting businesses to use their platform. The number of businesses Facebook pages jumped by more than 10 million since April 2015, and is now at 50 million.
Facebook business pages
According to Facebook's latest announcement, 45 million businesses now use Facebook to reach their audience. Facebook hasn't always been kind to them. After encouraging them to buy adverts to increase 'Likes' they then greatly restricted organic page reach, thus forcing them to pay to boost posts in order to reach a reasonable percentage of their audience. However, they have recently decided to give businesses a big boost to how effective their Facebook pages will be.
Facebook have been hazy on dates for when these changes will occur, and rather than committing to any timetable have only said that they will 'continue testing and adding new features to Pages' so check your Facebook page is up to date and stay tuned for further updates! We're not seeing these updates yet, but will let you know when we do.
New 'Sections' for pages give new options for businesses to explain their offerings
In this upgrade to how businesses' mobile pages will work, Facebook explained that pages would have a new tabbed mobile layout which would feature a shop section for retail businesses and a services section to showcase the services they provide.

Facebook explains the differences between the new sections this way:
'The new Shop section helps retail businesses bring their products to the forefront of their Page, while the new Services section enables professional services businesses to showcase a list of their offerings at the top of their Page'.
The Shop section will be a virtual store-front that will feature buy buttons including those powered by Facebook's partnership with Shopify. Allowing purchases within Facebook is in Facebook's interest because it keeps users within their platform, but it also transforms businesses Facebook pages from being mouthpieces for their marketing efforts to being a key part of revenue generation. Managers and CFO's take note; all the marketers who've been nagging you for budget to revamp and promote your company's' Facebook page might just have been right when they said it would deliver that all-important ROI.
Emboldened Call to Action Button
The update will also change the layout of call to action buttons on businesses Facebook pages. The have been made more prominent, bigger and brighter. Appearing directly under the pages cover photo and spanning the whole width of the page. Businesses using Facebook would do well to make sure their call to action accurately reflects what they want to achieve from their Facebook page. You can choose from 'Shop Now', 'Book Now', 'Learn More' and 'Sign Up', or 'Send Message' if your offering is unique to each customer and will need personalisation.

Different calls to action will obviously work better for different businesses, so make sure to go with the one that will make the most sense for your potential customers. If more than one could easily apply to your offering, then consider testing different buttons and measuring the results in terms of conversions or site visits (depending on your objective).
Improved page layout
Among the headline-grabbing changes regarding adding virtual shops and big call to action buttons, this update has also re-jigged the layout of Facebook pages on mobile to make them easier to navigate. The design involves breaking down the page into various tabs, so that it is not overly long and requires a lot of scrolling.

The option to message the page will appear prominently in the centre and above the tab menu, so make sure to have resource in place to have these questions answered swiftly; Facebook rewards pages which answer over 90% of messages within 5 minutes with a 'Very responsive' badge. When viewed on mobile, the page will default to the home tab, which starts with your pages 'short description' which can be found in the about section if looking on desktop. So make sure this is up to date and optimised to get the results you want.