Robert Allen | Smart Insights | Thu, 17 Nov 2016 11:00:00 +0000
Facebook's updated inbox will allow marketers to manage messages across different Facebook-owned networks on a single platform.
As social has grown, it has diversified. Where once a marketer focused on social media may have just had to manage the company Facebook and Twitter accounts, with LinkedIn on top if they were B2B, now there is an abundance of networks. We can add Instagram, YouTube, Pinterest, Snapchat to the list of major platforms, and then there are Messenger apps likes Facebook Messenger and WhatsApp that also require attention. More niche sites like Reddit, Tumblr, SoundCloud, SlideShare and Imgur may also deserve a social presence, depending on the brand in question.
No one ever had success on a social network by quickly setting up a profile, posting a few times and then forgetting about it. To drive results these platforms need constant attention and effort from marketers, so inevitably the increasing number of platforms that need managing end up meaning marketers have to spend ever more of their time doing so.
Clearly, Facebook have recognized this problem, and have just announced an interesting new tool for businesses to manage their different Facebook-owned social accounts.
Facebook have announced the tool- which is an update to its Pages Manager app, will feature an inbox which unites Facebook, Instagram and Facebook Messenger, and lets you respond to all inquiries within a single app. It will also let you quickly scan all three channels for new updates and feel confident that you aren't missing an important message.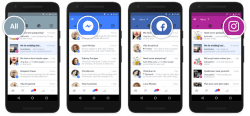 Keep track of users across channels
Aside from saving time by merging 3 different inboxes into one, the tool also offers some great functionality for marketers.
It allows you to see how users have interacted with your businesses in the past, and you can assign certain tags to users to inform how you deal with their inquiries.
Facebook have announced that the update will be rolling out in the next few weeks, so stay tuned for updates on when it will be live. Those who have already linked their Facebook and Instagram accounts, or those using Instagram adverts, will have their pages manager app updated automatically to include the new feature. So make sure you link your accounts so you don't miss out on the new functionality.