Robert Allen | Smart Insights | Wed, 19 Oct 2016 07:55:00 +0000
Use these essential ecommerce tools to help convert your prospects
To maximise conversion, an online shopping experience needs to be simple and easy for the user, secure at the point of payment and robust so as to deal with both high volumes of product and traffic. E-commerce management tools were designed for this specific purpose and have a number of features that other platforms (i.e. a generic content management system) do not. All of these tools provide a platform for online retailers to sell their products and services online; they create a 'digital store front' to enable products in different categories to be search, browsed and purchased.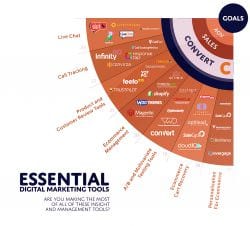 Key things to consider before purchasing and using these tools:
Implementation and running costs. There are (often large) costs associated with development, maintenance and migration from these tools. Be clear on these up front. Also, understand the programming language (Java, PHP and .net are the most common) of each solution and their impact on future costs and your internal/agency resource.
Scalability. It's important that a clear development pipeline is in place to ensure the right platform is chosen, therefore future proofing (as far as possible) for additional requirements. A steering committee should help with this.
How will you host your e-commerce platform? Cloud based services offer flexibility and require less up front investment. Physical on-site hosting provides a greater degree of control over your data and its privacy.
So make sure to bear those in mind when reviewing the following ecommerce management tools.
Magento
Used by over 20% of the worlds websites, this detailed ecommerce platform is built for people with professional web development experience, usually tending to Medium to Large sized organisations
Key features:
Marketing promotions and conversions
Site management
Catalog management
Catalog browsing
Product browsing
Checkout, payment and shipping
Order management
Customer service
The Smart Insights View:
Magento is one of the most recognised names in the crowded shopping cart scene, and for good reason. The extensive list of features it offers is second to non, making it the go to name in Ecommerce platforms.
Woothemes
WooThemes is a provider of high quality WordPress themes.  One of the plugins, WooCommerce, offers some powerful shop faciliities to your website, powering 30% of all online shops. It's great for both, developers and store owners, due to it's ease of use.
Key features:
Payment Gateways included as it Woocommerce comes bundled with myriad of payment options
Easy to configure shipping options
Automatic tax calculations
Tracking stock levels and shipments
Integration of various extensions to build your own databases
Onetime payment
Smart Insights View:
WooThemes and the WooCommerce plugin are a great alternative to Magento, although it isn't quite as powerful as Magento. But for the non-web developer, the seamless cohesion with WordPress makes it hard to ignore. Certainly the best option if you're looking for an easy and cheap way to implement.
Shopify
Shopify have one of the most extensive and thought-out dashboards of any ecommerce platform and have something for everyone. From POS software for iPads to Content Management Systems for your site. It has almost everything you need to run your own ecommerce store. It's designed to be useful for both pure ecommerce businesses and those with bricks & mortar locations.
Key features:
Ease of use
Lots of integrations
Wide range of professional looking themes, both free and paid
Simplistic Inventory Management
Level 1 PCI DSS compliant (your data is secured)
The Smart Insights view:
With the extensive tools at your fingertips it is one of the best-hosted solutions for creating an online store. Arguably the best for anyone with a physical store, thanks to the POS systems they have implemented.
Prestashop
PrestaShop is an opensource shopping cart, that provides everything you need to get started with an ecommerce venture. It's completely free to set up and open source, and offers a tremendous amount of templates to modify the look of your site. It's main benefit is the amount of data you can pull out of Prestashop.
Key features:
Easy to navigate add-ons
Mobile Compatability
Detailed Statistics
Free to set up
The Smart Insights view:
A great platform to use if you're looking to start up an ecommerce site and love getting your teeth into the nitty gritty of data. Watching your net profit margins raise in real time would really spur you to get the most out of your site. This is what sets it apart from the competitors. The only negative about prestashop is to be careful if you're a small merchant selling a couple dozen to a couple hundred items online, it's easy to see how developer fees, extra support, add-ons, hosting, and processing fees would quickly end up costing.
Actinic
A shopping cart software has effective and useful administrative tools to manage every aspect of your eCommerce website. It's standout quality is the web-design features and an administrative dashboard with great functionality.
Key features:
Great graphic design
Simplified stock and order management
The Smart Insights view:
If the other tools don't suit your needs, Actinic does the key things very well and has some of the best designs. However, it lacks some of the more common features that would entice customers to your shop and add to their online experience.
If you are looking at reimagining your entire ecommerce experience, you will need more than just ecommerce management tools. You'll need to review the tools you use across the entire customer journey. To do this  you can download our digital marketing tools guide, which details 150 tools over 35 categories.