Robert Allen | Smart Insights | Mon, 19 Sep 2016 13:40:00 +0000
Email retains its position as one of the most powerful marketing channels
It's two chart's of today instead of one today, for the simple reason that I couldn't include one without the other. One is great news for marketers, the other for consumers.
The good news for marketers is that ROI from email remains extremely strong. Long regarded as one of the most cost effective marketing channels, it's lead over others shows no sign of falling away.
Email thus remains a key channel for investing in for 2016 and 2017, with newer tactics like personalization, dynamic content, and embedded gifs &Â videos helping to increase engagement on the part of users.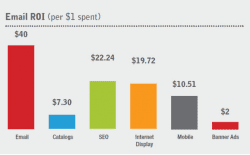 The worry of course is that the effectiveness of email will cause marketers to ruin it with overuse. As more and more attempt to use the platform users will feel increasingly bombarded and start to ignore emails, or simply unsubscribe. But new stats from Atlas shows the rate of 'spam' email has actually now reached a 10 year low.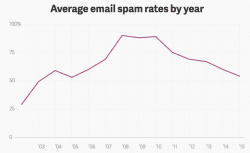 This trend probably results from a combination of increasingly strict regulations to prevent 'spam' email, along the evolution of spam filters making it a useless tactic. Whatever the cause, it's good news for both consumers and marketers. Consumers spend less time on annoying e-clutter, whilst marketers are better able to get through to genuine prospects (provided there not guilty of being 'spammy' of course!).