Expert commentator | Smart Insights | Tue, 01 Nov 2016 11:00:00 +0000
How to Create An Effective Digital Marketing Campaign for Your New e-commerce Business
Creating a digital marketing campaign for an e-commerce startup is a real challenge. You want to make your mark on social media as quickly as possible, and to begin building a following that will ultimately become loyal customers. The challenge is that you don't have much to go on. Finances are tight. This means limited resources when it comes to market research, or paid advertising. In many cases, it is up to your team to build a campaign from the ground up.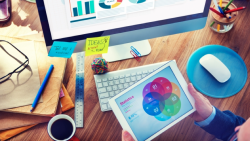 The following six points will outline some very important points to know as you begin to develop your first digital marketing campaign. Keep reading to learn how to develop a strategy that is economical, results oriented, and lean.
1. The Key Starting Point is Great Web Design
As an e-commerce startup, you aren't a business that has a website. Your entire business model along with any chance of success is wrapped up into your website. This means that you cannot afford to cheap out on things here.
Find a good web designer to help you create a great website, select the best possible shopping cart solution that you can afford, and pick a hosting solution that can handle plenty of transaction volume. Remember that all of the content that you create and curate is intended to drive people to your e-commerce site. Be sure customers aren't disappointed when they arrive.
Abel & Cole is one example of a well designed and intuitive e-commerce website. The company offers sells various boxes of organic food to health and environmentally conscious consumers. Think LootCrate for foodies. The site is full of great visuals, and offers up lots of great content. This is great for visitors who want to spend some time exploring and getting to know the company.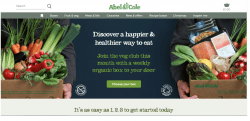 However, in addition to catering to these customers, Abel & Cole also prominently features a choose your box option on their main page that takes visitors directly to the place where they can select their box and place their order.
2. Use Twitter to Aggressively Seek Out Customers And Build Relationships
There are many social media platforms that you can use to share content and promote your business. You may not participate in all of them. However, it is a safe bet that you will become active on Twitter. It's a great place to get your voice out and let people know about your brand.
Just keep one thing in mind. If you are only using Twitter to broadcast messages and engage with people who have already found you, you're missing opportunities. Maximize your use of this platform by finding conversations relating to your industry. Then, jump in with your thoughts, opinions, and knowledge. Find influential people in your space, follow them, and start engaging them and their followers.
Does it work? If you ask Dave Brookes of Teusner Wines, the answer would be yes. Brooks became an active member of Twitter. He searched the platform using keywords relating to the wine industry. He reached out to influencers. He started conversations. He participated in existing conversations. The result was increased traffic and winery tour bookings. This wouldn't have happened if he stuck to Tweeting about the latest shiraz.
3. Know Exactly Why You Are Using Each Social Media Platform…
…and why you are posting each piece of content. As an e-commerce startup, it's important to keep things lean, streamlined, an economical. Everything you do in your digital marketing campaign must have a purpose. There aren't enough resources to jump into a platform, simply because it feels right. Nor is there time to create or share content because 'some people might like it'.
If you are going to become active on a social media platform, be sure that you can clearly identify your goal in doing so. If you are creating or sharing a piece of content, know what your purpose is. Are you trying to help your branding efforts? This is where content sharing your story and values is valuable. Are you trying to drive people to a landing page? This is where promotional content is best used. Are you trying to boost likes by posting something viral? Stop wasting your time.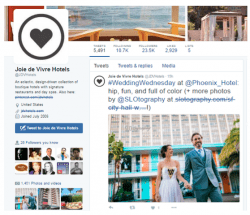 Joie De Vivre is a luxury hotel chain in California. They decided to focus on using Twitter as a means to drive sales by offering deep discount offers with extreme time limits. The result was getting reservations for more than 1000 rooms in less than a year.
Remember that you don't have to be present on every platform. It's perfectly reasonable to pick and choose. However, when you do decide to go active on a social media website, do so with specific goals in mind, and ensure that your activity on that site furthers those goals.
4. Use Personalization For UX And Retention
Personalization is important to people. In fact, it is so important that many people are willing to give information that they normally would not in order to have a personalized experience with your website. Use personalization to recommend products based on previous purchases. Greet new visitors and let them customize their own user experiences based on their needs. Remind customers about abandoned shopping carts. Create content that meets the needs of all of your buyer personas.
Zumba fitness once took personalization to a new level when they sent invitations to their annual conventions that contained personalized name badges for the recipients. This seemingly small gesture really earned a great response.
Great content marketing strategies involve reaching out to customers in unique and personal ways. Make an effort to provide your audience with content that speaks directly to their needs.
5. Work Hard to Establish Trust And Thought Leadership
Few things drive conversions, engagement, and traffic more than trust and thought leadership. Establish thought leadership by knowing your industry and your products inside and out. Become a source of information. You can do this by trying out a few of the following techniques:
Participate in Question And Answer Forums Like Quora – Find questions relating to your industry, and provide detailed, expert answers.
Create Long Form Content Such as eBooks And White Papers – This content tends to be popular with lower funnel followers and decision makers.
Produce Product Demo And How to Videos – Be the first source for people who are using your products.
Create And Upload Informative Presentations – This helps potential customers see what you have to offer.
Be Responsive to Customer Service Requests on Social Media – When customers hit you up on Twitter with questions or concerns, responding quickly and professionally will boost your reputation with them and those who are watching.
If you establish thought leadership, you have already gone a long way towards building trust. To further build trust, be consistent, truthful, and reliable with your content. Here is an article where Forbes weighs in on thought leadership.
6. Using A/B Testing Will Increase Likelihood of Long Term Success
The smallest things can make a big difference in digital marketing. Moving a CTA button, adding a trust badge, changing a font, or even adjusting an image very slightly, can have a significant impact on the way that visitors react and interact with a landing page. This is why A/B testing is extremely important, and why successful companies test and retest each time they make a change.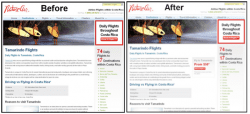 In one case, Nature Air A/B tested two landing pages. Both were identical except one page had a more prominent call to action box. Testing showed that this small change earned them 591% more conversions. So, what makes changes like this so effective? Behavioral economics is the use of psychology and emotion to influence the behavior of users regarding financial decisions. In this case, creating a larger call to action box provided psychological incentive for more people to convert. In this case, the technique employed was anchoring. Here are a few other examples of behavioral economics:
Providing Social Proof
Implying Scarcity
Establishing Authority
Limiting Choices
Conclusion
Smart, streamlined, deliberate, informed, data-driven, and aggressive; these are the words that should describe your e-commerce startup's inaugural digital marketing efforts. By applying the knowledge you've received here, you should be well on your way to success.