Expert commentator | Smart Insights | Mon, 24 Oct 2016 14:00:00 +0000
Applying the RACE Framework to eCcommerce
The eCommerce sector is soon to be hit with one of the greatest opportunities of the year. Sales, brand awareness and loyal customers are all opportunities to address within this festive period.
Last year, eCommerce Black Friday sales hit an estimated £4.3 bn in the UK. The growing popularity of Black Friday amongst shoppers opens opportunities for eCommerce businesses that do not usually use discounted offerings (to maintain customer perceived brand equity and quality) to get involved with the heightened retail buzz.
Within this article, the RACE framework is introduced and applied within the context of Black Friday and the e-commerce sector.
Breaking down your Black Friday marketing strategy will give your e-commerce marketing initiatives a concrete structure to thoroughly approach, identify, and meet your outlined Black Friday objectives.
The RACE Framework, Black Friday, and eCommerce
The RACE framework takes into account all aspects of the customer journey, with the preliminary stage of the framework emphasising the necessity of planning to assess strategic capabilities against outlined objectives.

Black Friday can benefit your ecommerce site through more than just sales, so it's important that your digital strategy addresses areas which will affect brand awareness and customer advocacy for sustainable business performance long after the holiday season has passed.
Planning your Black Friday campaign
Planning is crucial for success. Before we get started with any campaign, it's important to identify your available resources and current digital presence. For example, how many people do you have to work on this, how much time, what resources already exist, how big a social following do you have, how much traffic do you receive, and so on. This will enable you to make a plan of action which is much more suited to the way you already work and any constraints you have. Better to do a few things well than to try to do too much and not be as effective as a result!
Addressing the following three areas within the planning stage of your strategy will allow your prospects to meet goals and objectives which are more attainable:
Merchandising – Can you successfully promote and present your goods? If so, will you have the right amount of stock to meet demand?
Customer segmentation – Have you identified your target customer? Do you know where and how they like to shop?
Resource identification – What resources do you have available for your strategy? Will you need to temporarily outsource work, or can you manage it all in-house?
Once you've explored these three areas of your business, you can identify realistic goals and objectives, which will give you a more informed approach to outlining tactics and KPIs for your digital strategy.
Reach: Attracting Interest
The 'R' in the RACE framework stands for 'reach'. This is all about reaching your audience and making them aware of your upcoming Black Friday sale.
The following channels will help you to raise awareness of your Black Friday offers and to drive traffic to your website:
Search Engine Optimisation (SEO)
SEO, as we know, is the process of optimising your website to make it easier for people to find in the search engines. It's also about making your search result as appealing as possible, encouraging people to click on it.
With Black Friday growing in popularity, more people are choosing to search for discounts using queries which use 'Black Friday'.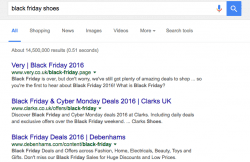 SEO is therefore an important part of your Black Friday strategy. Consider adding a 'Black Friday' category page and collecting all of your sale products there – or if this is too big a development job, you could create a simple Black Friday landing page which links to product pages.
You can also consider updating your meta data for the duration of your campaign to highlight deals on specific products within the SERPs.
By spending the time conducting keyword research for your product names, categories and themes, and appending 'Black Friday' to these terms, you'll uncover a goldmine of organic search opportunities.
Find out more about optimising your product pages for SEO
Digital PR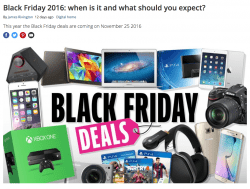 Digital PR is a great way to promote your deals. Particularly if yours is an industry where Black Friday hasn't been used much before, or if your offers are on something people don't often see, it can be a great opportunity for you to spread the news.
Featuring your brand and offerings through relevant 3rd party websites can boost Black Friday orientated brand awareness, referral traffic, and website strength. Potential customers looking to purchase goods on Black Friday will be researching the best possible deals prior to the day, so ensuring you're targeting the research savvy customers will be important.
So how do you get websites and publications to feature you?
Think about the story or the hook. You'll need to put together something newsworthy about your deals if you're to attract news coverage. Alternatively, or as well, think about assets you can create that people can link to and share in their existing articles. Gift guides, for example, work really well.
Outreach to websites which may be willing to feature your Black Friday products and deals. It's likely that websites which feature products and offerings which are relevant to your particular businesses niche will be a lot more willing to feature your products and website.
Social Media
If you already have a strong social media following, it makes sense to let them know about your deals too! They're already engaged with your brand, so prepare some eye catching graphics and a strong sales message to post organically on your walls and within your feeds.
But what if your audience doesn't yet engage with your channels? Taking a paid approach to social will allow you to segment and target your potential audience directly within their social newsfeeds. This can be a great approach to starting a relationship with new customers who have a high conversion potential.
Find out more about using paid social media to generate a Black Friday buzz
ACT – Interacting with new prospects
The 'A' of RACE refers to 'Act' – creating interaction with your audience.
Once you have started to raise awareness of your campaign, it's important you deliver an experience that encourages people to keep coming back to your site – on Black Friday and beyond.
This means creating an on-site experience that engages people. It also means ensuring all of your communication channels are primed to welcome new customers and make them feel an affinity to your brand.
By introducing a Black Friday experience on-site, customers will be more inclined and intrigued to browse around to uncover you're Black Friday offerings. Having engaging pre-event content on-site in the run up to Black Friday can serve as a powerful reminder for customers re-visit on the big day.
Here are a few ways you can enhance your website experience around Black Friday:
On-site Black Friday countdowns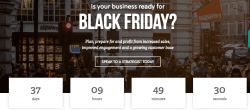 A Black Friday timer can really serve as an engaging asset to your landing page. Our Black Friday marketing tips landing page includes a timer, which visually emphasises the time remaining until the event.
This helps to create a buzz and gives people an incentive to return to your site to see your offers on the day.
Blog content
Creating fresh blog content can serve both as a means of gaining new traffic and engaging your on-site viewers.
Having content which is associated with Black Friday will reinforce your participation intentions to customers, whilst giving you an avenue to rank for Black Friday search queries.
Through your blog posts, you can introduce customers to a taster of your Black Friday offerings without revealing too much of your expected discounts. You want to be keeping your visitors engaged enough to return on Black Friday, so optimising the relevant engagement avenue's will aid you to persuade customers to return.
Gather a following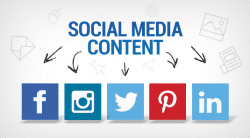 Social media is another way to encourage people to keep returning to your website in the run up to Black Friday – and beyond.
This is about creating a pre event buzz. To persuade your audience to join your email and social channels, exclusive incentives should be suggested, where by customers can receive exclusive news and information about your Black Friday offerings.
Audience re-targeting
When your audience has visited your site prior to Black Friday, you're going to want them to return on the day.
Re-targeting those people who have previously been on your site whilst they browse the web can be an effective way to get them back to your site when your deals go live.
CONVERT – Customer purchase
The 'C' of RACE is all about conversion – which means getting people to buy, or to do something you consider a goal, such as signing up for something.
At this point, you've prepared and optimised your paid, owned, and earned media and the flood of traffic you've wished for is just around the corner. You're going to want to capitalise on the opportunity as much as possible. Therefore, it's important to take the necessary steps to turn traffic into conversions.
Here are some techniques to help you encourage conversions:
Product deadline timers
Your customers will be flocking on-page and looking for great deals and bargains, so why not add a countdown to amplify the notion of temporary exclusivity?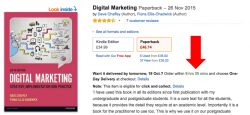 Amazon exploits this conversion strategy to pressure customers to order promptly, so that buyers can benefit from their most competitive delivery offerings. Having a temporary timer present within the customer shopping experience can prompt customers to purchase under pressure.
Transferring this strategy to a Black Friday e-commerce strategy can serve as a persuasive enhancement to convince customers to facilitate a purchase.
Expand your e-mail subscribers
Not every customer arriving on-site is going to buy something this Black Friday. But that doesn't mean you can't get something from your efforts. An increase in traffic is always a great opportunity for email collection.
Ensure you include both an opportunity and reason to subscribe to your mailing list. By offering incentives for post interaction engagement, you will be able to expand on your marketing efforts, post Black Friday. This will serve as a reinforcement which will benefit the post purchase engagement strategy stage.
Pushing micro-content
Sending current e-mail and social media followers micro-content about your Black Friday offerings is a great idea.
Having a stream of punchy content which emphasises the exclusivity and short lived nature of competitive offerings is a must. Taking a very call-to-action heavy approach with your copy will help to grab your audience's attention amongst the crowd of competitors' messaging.
Offering exclusive discount codes through these channels can be a way to reward loyal customers. It will give your customers a reward for fully committing to engaging with your channels.
This strategy may not be the most cost effective strategy in terms of product profit margin, but it will aid to serve as a retention strategy for future email subscriptions and social followings post Black Friday. Besides, if you've got a strong following of happy customers, you're more than likely to convert these customers at Christmas.
ENGAGE – Post purchase engagement
The 'E' in the RACE framework refers to 'engagement'. This is arguably the most important part of your campaign, as a highly engaged audience is more likely to return long after your sale is over.
Here are a few ways to create a more engaging experience:
Product packaging
Arguably, the first physical interaction you have with your customers as an e-commerce business is through your product delivery and packaging.
The traditional retail environment provides customers with the empowerment of being able to physically experience products. Customers are sometimes dependant on this reassurance to facilitate a purchase. Therefore, including physicality to your e-commerce customer experience can set you aside from your competition.
Customers are always eager to open deliveries, even if they know what the contents of the package are going to be! Going beyond plain packaging, you can introduce a fun, exciting, and memorable experience. Wow your customers by giving them added value to the products they ordered.
Providing an experience that your customers will remember (or even share on social media) will imprint both value and a human touch to your business. As it's Black Friday, why not include some Black Friday themed packaging stocking fillers?
Email Marketing
Creating email marketing campaigns which engage with customers is another great way of nurturing loyalty and repeat purchases.
As Christmas will be soon approaching, a good tactic may be to offer your email subscribers a small discount over the Christmas period (after all, they will be Black Friday bargain hunters).
Having on going connections and communication with your customers in the lead up to Christmas is a perfect means of improving your customer base relationship.
Include links to your social media channels too. This gives customers the opportunity to further engage with your brand and investigate your content, deals, and offers. Optimising your content and digital channels post Black Friday is important to keep an on-going retention strategy going.
Social media
Black Friday is very much a social retailing event.
Customers not only want to be getting the best deals and bargains, but sharing their savings with peers is part of Black Friday's customer value.
Giving customers a reason to create (positive) user-generated content about your brand and offerings can lead to repeat custom and can serve as a converting resource for new customers. People trust customer reviews and perceptions over corporate appraisal.
Feeding relevant social media content which reminisces the passings of Black Friday but eases customers into christmas orientated posts will enhance your customer relationship efforts throughout the festive period. This you with milage to progress your Black Friday efforts into your Christmas strategy.
Measure, analysis, improve
After you have successfully implemented a Black Friday digital strategy (using the RACE model) and have gathered valuable data, it is important to reflect and learn on your efforts.
Review your outlined objectives and see what may (or may not) have lead to the completion of these objectives. Revisit those success factors and understand how they lead to a successful strategy.
For more Black Friday tips and advice, check out the range of Black Friday whitepapers at Impression