Expert commentator | Smart Insights | Wed, 09 Nov 2016 11:00:00 +0000
How to win at Black Friday and Cyber Monday
Black Friday is traditionally the busiest shopping day of the year. It kicks off the critical holiday season. The holiday shopping season is crucial for the economy because around 30% of annual retail sales occur between Black Friday and Christmas. For some retailers, such as jewellers, it's even higher — nearly 40%.
Having roots in the retail sector, there is still a part of me that gets that toe-curling feeling when hearing those two words together – Black Friday. It is infamous with chaos, carnage and that primal, possessive part of our brains. There are those who have opted out of the chance of being trampled, losing teeth and other appendages and getting into car park fisticuffs, but have instead opted for waging this warfare online.
The premise of Black Friday was to be a purely retail experience with rock-bottom deals on majority stocks in some cases. The digital arena would open for deal striking on the following Monday, now commonly known as Cyber Monday. In the very short space of time that these events have been in existence, the dividing lines have blurred into nothingness and retailers have rightfully jumped onto this trend. But are they making the most of it?
The Tale of the Tape
You don't need to look back very far to see how important having a strong presence in preparation for Black Friday is. In 2015, Amazon posted sales of 7.4 MILLION units in the UK alone. That works out to approximately eighty-six units being purchased every second. This is just from one online retailer, retailers with a physical existence see a regular increase on Black Friday but nothing to the extreme of online competitors. The main difference? Preparation, SEO strategy, audience engagement and landscape research and unrestricted by geographical boundaries; commerce war on a global scale.
With the lead up to the marathon sales weekend, there are still businesses who find themselves caught off guard and missing a solid set up before it hits. There are retailers who use the sales opportunity to sell through old and discontinued lines instead of utilising the event to boost sales on popular ranges. That is a risky strategy, especially for products that aren't selling prior to Black Friday, the chances of selling them through is much less than newer, popular items.
More recently, in America, online site presence won out over physical retail stores. Retail has had this gradual decline since 2014 and is building speed, last year digital shopping outshone retail sales by double figures over Black Friday, this gives us the premise that 2016 and beyond will snowball into a greater opportunity than before. The best practice going forward is going to be preparation, preparation and preparation, this comes from knowing the trends of the previous success and pre-empting the next waves direction. The three priority points to research and apply to your strategy are as follows:
Smart Devices Create Smarter Shoppers
With the level of consumer access, we have via our phones and tablets today, tied with voice search analytics, mean that consumers can perform all of their deal shopping from anywhere. With this rise, increasing the amount of deals available and the price drops visible, the online profitability margin will undoubtedly increase.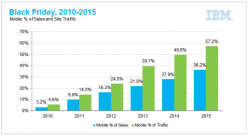 Image courtesy of IBM
If You Stock It, They Will Come
Commerce and Ecommerce can only be as strong as the size of the inventory levels. Nothing turns consumers away faster than "out of stock†messages and tags, this does not only mean the loss of immediate revenue or opportunity but also the potential loss of future sales as lost customers stay in the camp of competitors who did have the supported stock levels.
Be Prepared
Creating a solid lead up campaign that draws the traffic to your retail stores and your digital battlefront is imperative to a successful Black Friday/Cyber Monday campaign. The strategy must be well thought out, managed consistently and within your means to meet.
Well Begun is Half Done
Having all the song and dance of a great campaign and then only backing it up with bare minimum will leave you with negative customer traction, negative revenue production and, most importantly, negative customer interaction. Having bad customer experience will echo throughout social media, the information age is a font of limitless potential for businesses to exploit and utilise, but it is a double edge sword, those who do not consider that very real outcome, will inevitably be cut by it.
The strategy for Black Friday SEO will need to have many different facets to its structure. You will need to have a Black Friday landing page that is spotless, flawless, relevant and engaging. This will ensure it is easily understood by both users visiting you and search engines. Utilising both long and short tail terms will improve this initial attraction.
Battle Plans at the Ready
If, in previous years, you have had good traction with how you created your landing pages, then re-use it. Recycling and refreshing a successful landing page will allow it to accrue authority with the search engines, this will lead to an increase in ranking strongly in the SERPS. If you have the opportunity to use the high ground, take it.
Restructuring your content including titles, meta descriptions, tags and text can give you a plethora of chances to change your final rankings in the SERPs to increase conversion. Plan before creation, target your key phrases and keywords to use on your page to bring the fundamentals of SEO tactics into play.
Creating a 'pincer attack' using social media is a positive strategy to implement, although social media is not the arena for a full scale campaign, merely a chosen battlefield. Using it to highlight key products and popular points of interest will draw greater engagement to your site, you can also use social media to engage in other ideas to spark the footfall needed like quizzes, challenges, flashpoint alerts, etc. Social media is developing into a selling base for many retail opportunities giving even more businesses footholds into the online market warfare.
When all is said and done, report, review, re-strategize. There is always more to learn and change and improve on what you have done. SEO is a constantly evolving beast and the moment we stop evolving and learning, is the moment we stop being SEO operatives.