Robert Allen | Wed, 10 Jun 2015 15:00:00 +0000 | http://www.smartinsights.com/lead-generation/marketing-automation/b2b-marketing-automation-an-evolving-market/
New research report: B2B Marketing Automation in the real-world
Marketing Automation has evolved quickly over the past few years as part of an evolution from earlier Email marketing, CRM and web personalisation systems. A mere 10 years ago, no email platform or CRM vendor could claim they had automated much of the marketing function. But a decade later, a new generation of marketing automation products are designed to discover future customers, gain insight and present marketing actions. These gives B2B marketers a whole new series of options for automating their marketing, which inevitably involves a series of great opportunities which should be seized, but also pitfalls that need to be avoided as detailed in our Marketing Automation Best Practices guide.
How is Marketing Automation being used in the real-world?
In order to get an accurate picture of the current state of marketing automation and to be better able to predict future trends, we are conducting a research survey on B2B marketing automation with CommuniGator.
We'd really appreciate it if you took a few minutes to complete this short survey to share your opinion, and you will then get exclusive access to the results of the report.
In the remainder of this article we will explore other research on the scale and usage of Marketing Automation technology.
The basics of marketing automation
Boiled down to its simplest form, marketing automation is something that enables businesses to automate tasks in the marketing and sales process. In reality this involves a wide array of tools in an ever-evolving marketing automation ecosystem.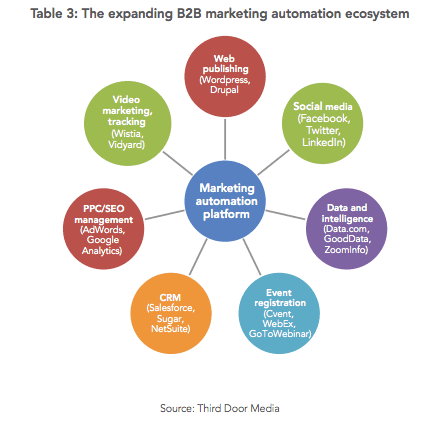 Marketing automation focuses on lead generation and scoring practices, customer intelligence, campaign management, segmentation, tracking and deployment of marketing campaigns. Typical marketing automation services involve the sending of emails customised to contain information on products which customers have been viewing on the website, but this offering is changing, with more and more tools to automate different aspects of digital marketing. It is certainly a growing market with the B2B marketing automation sector increasing tenfold from 2009.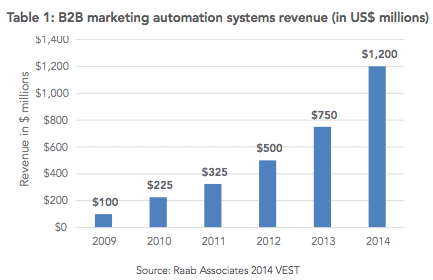 The current state of marketing automation
Right now email continues to dominate the marketing automation market, with web tracking also highly automated.  Social Media marketing is increasingly automated, which saves time, but also comes with risks. Social Media users want brands to engage with them and come back to replies quickly, rather than just post out their own content passively. That said a number of excellent social media automation tools have appeared in recent years, which allow marketers to oversee their social media see who is engaging with their posts, as well as gather analytics on posts to see what is working well on different social channels.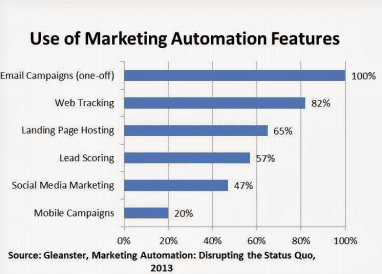 Automated email marketing is probably the most well developed aspect of marketing automation, which a number of different options for automatic triggers to send emails to leads when they might be most receptive. These automated emails include:
·       Abandoned shopping cart emails
·       Win back or reactivation emails
·       Welcome campaigns
·       Thank you emails and purchase confirmations
·       Date triggered emails (e.g. birthday, renewals)
·       Post-purchase product reviews
·       Related product recommendations
·       Follow up and lead scoring campaigns
Where the market is going
The problem with marketing automation is that it can be seen as spammy- pushing out messages whenever a chance arises until the potential customers ends up being bombarded by so many automated messages that they just ignore them. This is something more advanced marketing automation will be able to address with ever-greater levels of personalisation. A key example of this is the emergence of personalised landing pages.
Personalised landing pages allow marketers to deliver personalised, relevant content to each prospect based on information already collected about them. These sites often use a distinct URL for each prospect and can be developed using rules that automatically assign content based on a prospect's industry, job title, geography or similar criteria. This can increase conversion rates among new and returning visitors and allows you to experiment with different messages or offers to help you optimise your site for conversion. So in future expect to come across more sites that seem to be offering exactly what you're interested in.