Expert commentator | Smart Insights | Mon, 03 Oct 2016 08:00:20 +0000
How JD Sports outdoors brands Blacks and Millets integrated personalisation into their experience
With average online conversion rates still languishing below 5 percent for retailers, the use of personalised merchandising techniques to boost conversion is a popular investment for many retail sites. This case study of two outdoor retailers who are now owned by JD Sports shows the type of benefits that are possible with different forms of personalised recommendations and how they can be used on different page types:
"Compared to average site conversion rate, conversion rates were increased by 332% on Millets.co.uk and 277% Blacks.co.uk where a visitor selected a personalised product recommendation. The proportion of site revenue from product recommendations is significant, accounting for nearly one fifth of all sales (19.0% at Millets 16.9% at Blacks)â€.
These examples and results relate to improvements during 2014.
Before this project, the sites were already using default recommendations from the commerce management platform on some pages, so this case study shows the types of uplift that may be possible for retailers who have not implemented personalisation or are looking to improve their personalisation. To help make the business case for investment in a personalisation tool it's common to complete an A/B test on select product categories to prove the effectiveness of product recommendations solution. The results showed a 10% increase in conversion rates when Barilliance Recommendations were shown against the default recommendations Blacks had previously been using.
As well as the improvements to the customer experience and the direct sales benefits this gives, other requirements from the service included ease of use and a 'software as a service' SaaS platform that would enable personalisation to updated and new campaigns added without the need for IT support.
How does personalisation work?
The types of personalisation used include both automated and rules-based up-sell and cross-sell personalisation as the examples below show. Increased conversion rates and sales are the ultimate aim of a CRO project like this, but when a personalization solution is implemented, there will also be improvements in micro-conversion steps, such as an increase in conversion to product pages views. Following an initial data indexing phase, the recommendations increased bother the number of product page views and average time on site
The Barilliance product recommendations engine makes recommendations based on the intent and preferences of each visitor based on the page types they browse and product categories they interact with. More than 20 types of product recommendations are automatically presented to site visitors on category pages, product pages and basket pages. In addition to the auto-generated product recommendations, the teams at Millets and Blacks also create up-sell and cross sell merchandising campaigns that override the auto recommendations.
Examples of personalised product recommendations
In this section of the case study we look at examples of different types of personalisation
1. What customers ultimately buy recommendation
We've started with this type of recommendation since it's the most important to get right. A recent research study evaluating types of product recommendations , found that out of the 20+ product recommendations types that were reviewed, the most engaging recommendation type was 'What customers ultimately buy'. This is the equivalent of the well-known Amazon recommendation "What Other Items Do Customers Buy After Viewing This Item?" Here's an example from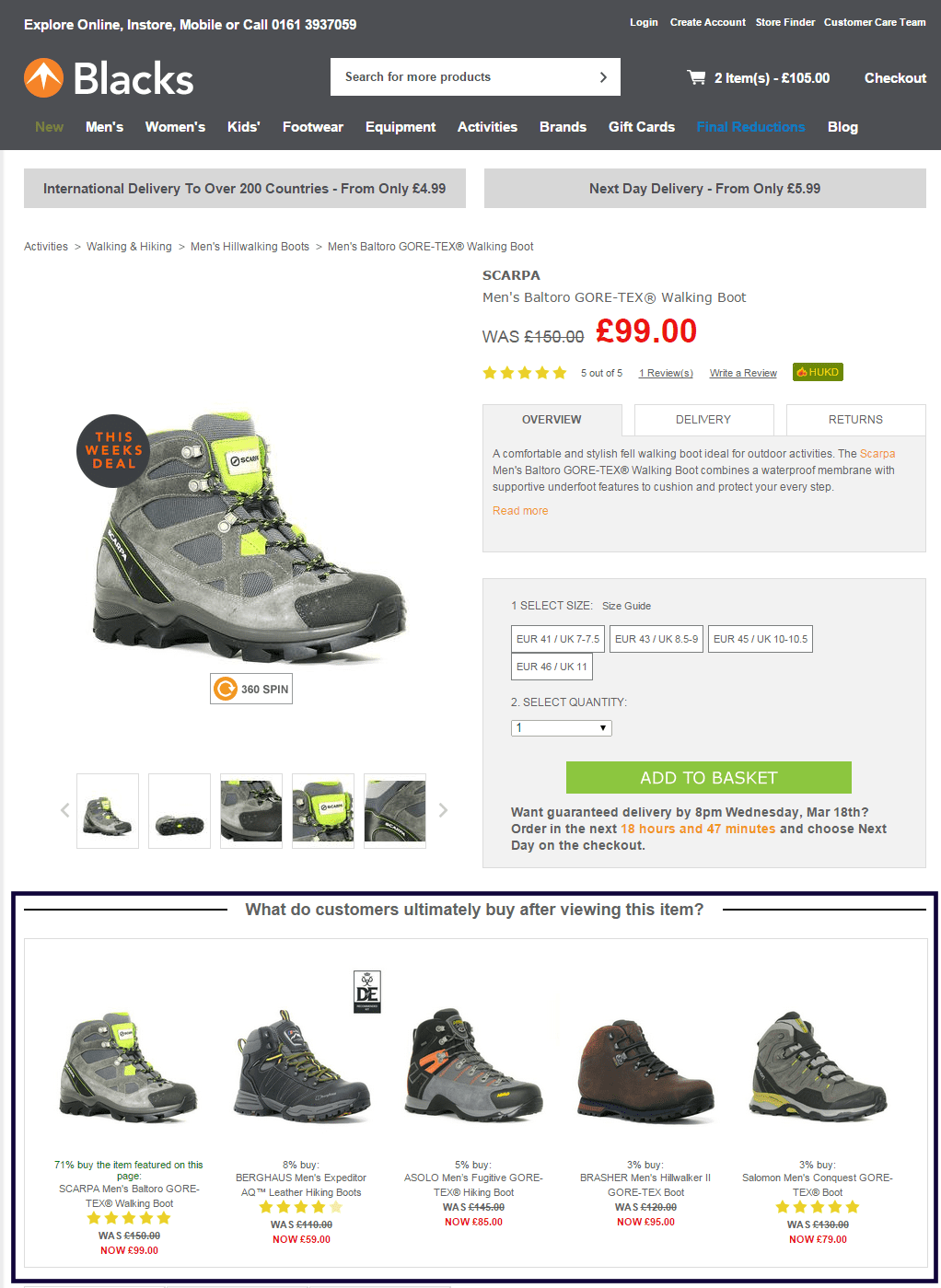 2. Rule-based cross-sell personalised recommendation
One of the rules previously implemented on the Blacks.co.uk site relates to the weather: on a rainy day, whenever visitors were about to conduct a purchase on the blacks.co.uk site they were presented with recommendations of some waterproof essentials:
An example of a cross-sell personalized product recommendations (this rule was created by Blacks marketers and is auto presented to anyone who has any of the following products: shoe, boot, wellies, wellington in their shopping basket.
This is another example of related product recommendations:
3. Example of auto-generated product recommendations
Since it's not practical to create rule-based recommendations for all systems, auto-generated recommendations are essential too. In this example from Millets, a selection of top-sellers are automatically presented.
Looking at the Return-on-investment for the project as a whole, for every £ spent on the personalisation technology, JD Sports revenue from recommendations was £291.7.