Patrick Kelly | Smart Insights | Tue, 13 Dec 2016 16:00:03 +0000
Chart of the Day:Â Sainsbury's Stop Motion Animated "The Greatest Gift" races to 14 million views
Christmas is only days away – retail stores are competing for consumer attention with high profile multichannel marketing campaigns, all hoping that they can report a successful holiday period with increased sales in the new year. It seems that every year the competition to create the best Christmas advert – popularised by Coca-Cola in the the eighties with the Coca-Cola truck advert (still my favourite every year since) is getting fiercer. In the last few years the John Lewis advert has been the one that every other retail brand is trying to match – this year the retailer who is coming closest is Supermarket chain Sainsbury's with their Stop Motion Animation ad "The Greatest Gift" voiced by James Corden which tells the story of Dave, a hard-working and devoted Dad, who realises that the greatest gift he can give people this Christmas is his time.
For today's Chart of the Day, I thought I would update a previous Chart of the Day from November: John Lewis Christmas advert smashes 7 million views on Youtube to see how the figures have changed throughout the holiday period.
You will notice that two new entries have been added to the chart as they were not released when the original chart was published. Sainsbury and H&M have bet big on featuring celebrities and it seems to be paying off as they have eclipsed Boots Aldi & Argos significantly. Will the investment in this year's Christmas campaigns pay off for each brand? Only time will tell!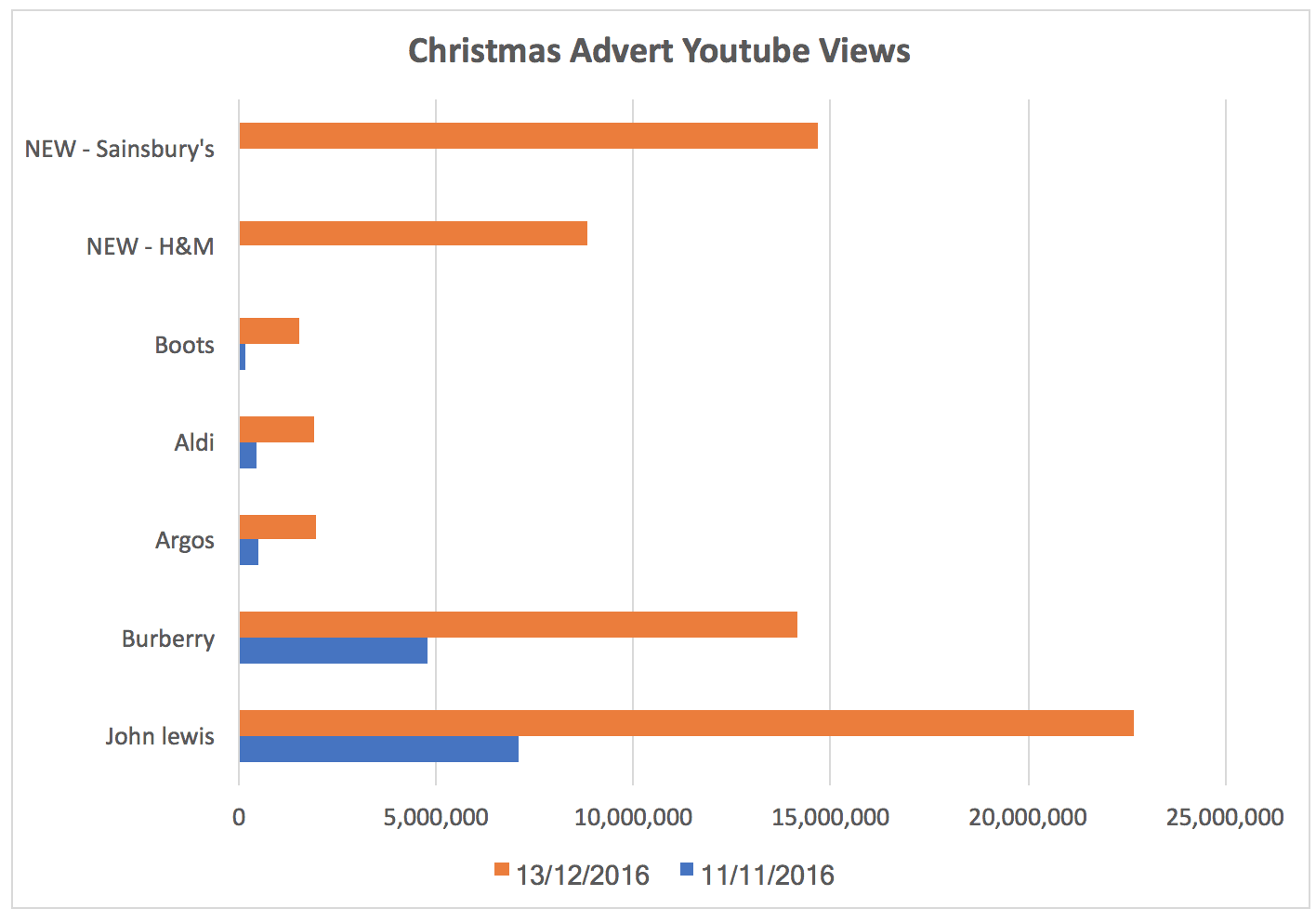 Watch the videos on Youtube: