Expert commentator | Smart Insights | Mon, 05 Dec 2016 15:00:00 +0000
Make sure you avoid these costly ecommere mistakes at all costs
There are many ways to grow your ecommerce business. Similarly, there is a multitude of ways to kill it. If you have a well-designed site, good products, a smooth checkout process, and still aren't getting good conversions, you might be committing any of these below-mentioned mistakes that are fatal for all ecommerce businesses.
1. Not having a clear site navigational structure
Yes, it happens. Sadly, most of the ecommerce sites don't pay much attention to their navigational structure. If your navigational structure is not clear, it will confuse your visitors, and they will feel lost. A good navigational structure will not provide a good user experience but will also help your customers find what they're looking for quickly and easily. A poor navigational structure is one of the biggest conversion killers.
2. Neglecting product descriptions
One of the most common mistakes ecommerce sites make is the lack of a coherent product description. If you don't believe me, ask any shopper, and they will have this grievance. One of the biggest concerns online shoppers have about shopping online is that they can't touch & feel the products before buying. But a well-written product description and clear product visuals for each and every product can eliminate these concerns. Improving product description is one of the easiest and fastest ways to improve your conversions. It's one of the final steps in moving your customer towards the checkout path, so it should be compelling enough to help them take the right decision quickly.
When writing your product descriptions always remember that it should not just describe your products but, should be written in a manner that it helps you in converting that initial interest into a sale.
Here's an example from Fab.com who are doing it right: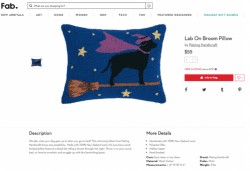 3. Underestimating the power of social proof
Despite how clearly you've highlighted your products in the description, most people may not trust what you say about your products until the time you show them a social proof. Also, when in confusion whether to buy or leave the product, your potential shoppers will look for social proof. And, they're much more likely to purchase a product with the highest number of positive reviews. This social psychology is the reason why social commerce is touted as the next big thing in ecommerce.
Here's an example from Bananarepublic, they surely know how to use product reviews to get more sales: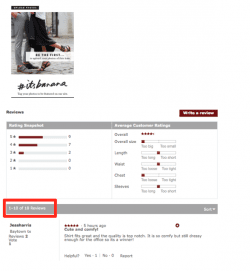 If you're not encouraging your customers to write reviews of your products and share it on social, you are leaving a lot of money on the table. So, don't just ask customers to write reviews, give them a reason to do so too.
4. Not implementing mobile first strategy
Mobile optimization should form the core of your online marketing strategy. We have reached a point where mobile optimization is more important than optimizing for the desktop experience. Why? Every day, more people are browsing and buying from their mobile devices. Do you know that 9 out of 10 mobile searches lead to action, and more than half lead to sales, and that trend is only going to go up in the next few years.
Having a mobile friendly website and mobile responsive email is one thing, but building your ecommerce experience with a mobile perspective is another thing.  It is crucial to remember that mobile commerce is here to stay, and every ecommerce website should pay utmost importance to this if they don't want to lose their revenue.
5. Sending batch and blast emails
There was an era in ecommerce marketing when it was okay to target subscribers with batch and blast emails, but that time is over. In the present digital marketing scenario, failure to personalize your email marketing will be fatal for your business. Why?
Inbox is a personal space so emails must be personalized to the users receiving them. Your message should not look like you've sent the same to 10,000 other people else your subscribers will stop checking them and will ultimately unsubscribe. Don't just send blanket emails; send the ones that talk to your readers directly.
When sending emails always remember, your subscribers are real people. So, don't forget to treat them like one too.
To learn how to personalize your emails take a look at this message from Expedia; they sent me this email after I searched hotels on their site: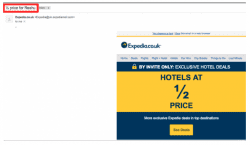 6. Failing to provide excellent customer service
It's not possible to create loyal customers without an exceptional customer service.  As per a research, 68% customers leave because they are unhappy with the service they receive. Offering a great customer service is the key to retaining your customers and takes your business to the next level. But, quite often it's overlooked. A good customer service approach will help you build a long-term relationship with your customers.
7. Focusing only on acquisition
Although retention is something every ecommerce site knows they should focus on, still most of the marketing budgets are spent on acquisition. You spend a lot of resources to drive prospects to your site and make them a customer. Do not allow those resources to go in vain by taking your focus away from these customers. Do you know that it costs 6–7 times more to acquire a new customer than retaining an existing one?  Also, the probability of selling to an existing customer is 60 – 70% while the probability of selling to a new prospect is only 5-20%.
These are some grave mistakes, which are responsible for the failure of many ecommerce businesses. If you're making all of them or any of them, it's high time you correct them.