Expert commentator | Smart Insights | Thu, 15 Sep 2016 14:00:00 +0000
How to build and nurture online communities
A surefire way to build trust and foster brand loyalty is to establish an online community or membership site. It provides your audience with a sense of belongingness, exclusiveness, and the reassurance that your company is looking out for your valued customers. However, before you get ahead of yourself, remember that a successful community is not easy to establish. It requires extensive planning, research, and time and effort in order to set up an engaging platform.
The first step in creating an evergreen community is understand the how the best in the business have done it in their respective markets. Below are seven of the best online communities or membership sites operating today:
1. Blogging on Your Own Terms
Membership sites do not have to be complicated. For example, Blogging on Your Own Terms by Daniela Uslan is built completely on Facebook. It is a community built specifically for bloggers who need guidance and support in their careers. It worked on a simple premise of bringing like-minded people together on a single platform.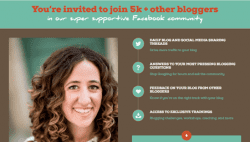 If you want your platform to garner opt-ins, then you should make the entire process simple and convenient. While some membership sites work on a paid subscription basis, Uslan's community is completely free to join. Her brand's alignment in keeping things simple is apparent in the sign-up process as well. All users have to do is enter an email address and join the Facebook group.
Takeaways:
As a community manager, you should understand that social connections are built with humans. Daniela Uslan clearly established herself as the face of the business that the blogging community can relate to. Furthermore, you need to make sure that your group administrators have human names as well to make them more approachable.
2. Long Exposure Photography
Another example of a simplified membership site is Long Exposure Photography. As the name suggests, it is a photography community based on the Google+ social platform. However, a noticeable difference between the previous example and this site is the strict set of rules that manage the community.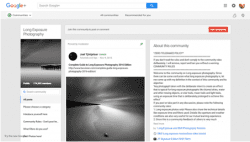 You see, this group is more of a professional community that is built for passionate photographers. In this case, the use of Google+ is perfect because image sharing, feedback, and networking are all integrated within the platform.
Takeaways:
When building an online community, you need to carefully choose a platform that can highlight what your group is all about. Community managers also need to leverage any built-in features (image sharing, comments, and "+1â€s) to foster a tight-knight community.
3. Deily
While some of the best online communities connect like-minded people, Deily nurtures a unique experience that unites people from different religions. The genius behind Deily's platform is that it encourages people to contribute user-generated content for the purpose of discussion or debate regarding a person's faith. Users can upload audio clips, videos, full articles, and photos that share their religious views and opinions.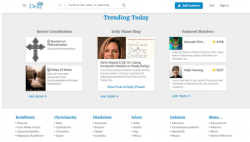 The more quality UGC gets posted on Deily, the more discoverable they are in social channels and search engines. Sure, your brand may not deal with a field as big as religion, but you can borrow inspiration from Deily's full-blown site structure and features.
Takeaways:
Since there is a number of different religions that may have opposing views, Deily did not force everyone to interact in a single channel. To better manage your community, make sure you offer different "subgroups†that segregate your audience. Besides, by giving every subgroup equal privileges on the site, users are encouraged to respect and learn from each other.
4. YouMoz
Moz is a popular, authority website for all things SEO. It is the go-to place for digital marketers looking to demystify SEO and keep up with the ever-growing competition. Additionally, it is a place where SEO professionals and gurus can share their knowledge. In the YouMoz blog, any member can post articles on SEO news, tips, strategies, and case studies.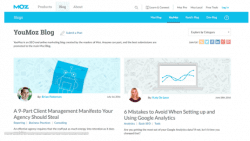 If there's one thing YouMoz accomplished for the brand, it is to aggregate all the best, experience-based tips and insights by the SEO community in a single location. As an incentive, quality posts will get promoted on the Moz website itself – granting exposure to dedicated members who pour their heart and soul in their submissions.
Takeaways:
YouMoz's success strategy hinges around user-generated content or UGC. This type of content is deemed trustworthy by the online community since they mostly made from firsthand experiences. You can also promote UGC in your membership site to make users feel more involved with the community's development.
5. YouPreneur
The path to entrepreneurship is a rugged road full of uncertainties and challenges. As an entrepreneur, you need all the help you can get when it comes to making informed decisions to make the most out of your investments. YouPreneur is an entrepreneurial community by Chris Ducker tailored to give aspiring entrepreneurs a helping hand.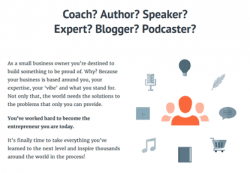 This particular example proves that monetization can be easy if you as long as you target a profitable market. The YouPreneur is full of battle-hardened marketers and entrepreneurs – including Chris Ducker himself. Given it is a paid subscription, entrepreneurs and startups need to consider membership as an investment. They need to learn and make time to use the platform regularly to get the most out of them.
Takeaways:
Paid membership sites need to offer a lot of value to retain subscribers. Fortunately for YouPreneur, Chris Ducker's experience along with the submissions of other qualified individuals were leveraged well and translated into useful information. Make sure your site offers a ton of valuable content to users; outsource from different contributors if necessary.
6. Geeks Life
If you are planning a paid membership site, the first thing you need to consider is your pricing model. Geeks Life managed to hit the nail in the head by working with a "pay with what you can" basis. This means users can specify their pricing to suit their usage needs. This process eliminates the need to formulate packages that give your audience fewer options for a subscription.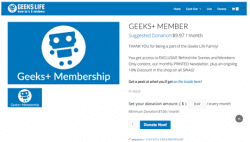 Today, however, Geeks Life tweaked their flexible pricing model and settled for a donations system. Upon signing up, members can choose how much they are willing to donate, which will give them access to behind-the-scenes content, printed newsletter subscription, and a 10% discount for other products.
Takeaways:
Giving the audience more control over their payments is a great way to attract more subscribers. This strategy basically gives everyone with different budgets the opportunity to join. You don't need to do exactly this, but you need to make sure you have flexible membership options to suit your audience's different needs.
7. Quiet Speculation
Finding an idea for a membership site can be a lot harder than setting up the site itself. A great strategy for this is to look at niche products, services, or brands in a new angle. Observe trends and issues that people already talk about. Quiet Speculation is a great example that identified a gap between the demand for information and the availability of sources. It is a growing online community that tackles the "money-making†aspects of Magic the Gathering. Yes – the trading card game.
Takeaways:
As the internet continues to grow, new opportunities arise for bringing communities closer together. If you're planning to build a new membership website, pay close attention to the latest trends in popular industries—preferably something you're genuinely interested in. Look to fill the gaps between the demand for information and the availability of resources.
Conclusion
If you are struggling to build a membership site, there is a ton of examples that can make it all look easy. With the examples above, you should have more than enough ideas for a successful membership site that rally your audience together – providing them with a community with your brand as the herald.