Expert commentator | Smart Insights | Mon, 05 Dec 2016 09:00:00 +0000
How to use filters in Google Analytics to get more accurate data
In this article, we will explain how to receive more accurate data using filters.
For a start, keep in mind that filters in GA are designed to help you customize the data seen/viewed in GA, according to the purpose of the report you need to create. You can
Exclude data;
Include data;
Change data;
Search & replace data;
Set up an advanced filter.
First Things First: How to Add a Filter
Filters are added only within the "View†menu and here you can create many views if required. A view of the website is basically a copy of the GA data with different settings applied, e.g. you can set access rules, determine the goals for your website, etc. For further information about what the view is and how to add a view check out this material.
Now, log into your GA account, select a "View†menu, and press the "Filter†button.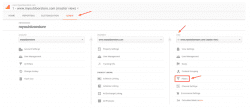 Click on the "+ADD FILTER†button to add a new filter.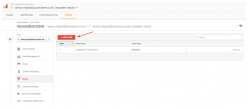 Select a filter type thoughtfully.
GA offers two types of filters: predefined and custom filters. The former are the templates for the most commonly used filters. The latter allows you to find the solution for any task by customizing your filters to achieve a specific goal. Using a custom filter is recommended for advanced users. Either way, remember to get a correct filter name and save the settings of your filters. See the following example:
Correct: exclude IP 193.88.222.1
Incorrect: qwerty12345
Before you apply any changes, make sure to consider these details: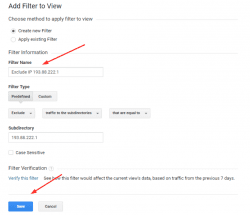 Don't delete or add filters to your original view; experiment with copies of your website views because when you delete a view that particular historical perspective of data is gone.
Google Analytics applies filters exclusively to data that would be added after creating the respective filter, e.g. you cannot filter the data you already have.
Filters are applied in a particular order, in which they are set, so you should specify your selection carefully. It's important to consider what filters to apply first, second, and so on.
Anatomy of GA Filtering: How to Get More Out of Your Data
Let us analyze the following example. There is a company X that works in e-commerce in Canada. It has an online store blog with lots of posts, and an active forum. They can ship their products within Canada only, but their website is visited by people from different countries, mainly the U.S. and the U.K.
Advice #1: Measure traffic from the local audience.
The visitors from the countries other than Canada don't convert into sales. So, it makes sense to set the filter "country†like on the image below.
Advice #2: Exclude traffic from the company X employees.
Naturally, the site is frequently visited by the company's sales managers, marketers, content managers, and developers. Most of them visit this resource to stay updated, follow the latest industry trends, and participate in discussions on the forum. So, it makes sense to exclude this kind of traffic which does not convert into sales. In this case, we advise to simply exclude traffic from the IPs used by the company X employees. Set the filter as it is shown in the following screenshot.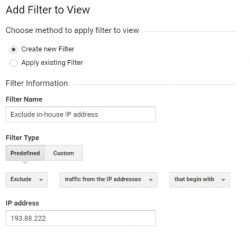 Advice #3: Combine data in a page view report.
Since Google is case sensitive, it's possible to get data as shown in the following table:
Page
Pageviews
 

 

Page
Pageviews
/page1.html
5
→
/page1.html
11
/Page1.html
4
/PAGE1.html
2
To analyze the obtained results with ease, apply the following filter in the view.
Advice #4: Clean the data out of spam.
We recommend this tool developed by Simo Ahava (Google Developer Expert for GA), which allows you to identify and remove the fake hits to the website. They have an in-built database sufficient to accomplish most of these tasks. Here you can find the helpful spam filter tool.

Advice #5: Ensure to exclude data resulted from incorrect traffic.
As you probably know from using GA, you have to add a Tracking Code to your website or mobile application before you start receiving GA data, as shown in the example below:

The issue is that anybody can copy your code (accidentally or specifically) and add it on their site or application, so your Analytics will collect information from there. Let's consider the aforementioned in our sample case and exclude such traffic to receive better data.
Advice #6: Divide commercial and informational traffic.
If you have a blog or forum on your site, you can exclude this kind of traffic by creating a filter as it is shown in the image below. Company X should definitely consider this option because they have a popular forum, which is also used by their employees.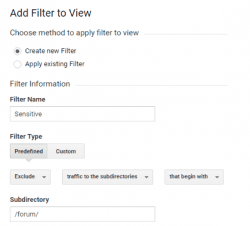 Take Back to Work
GA offers a wide functionality and it is sensitive to details. So, a vital task during creating filters is to apply the correct settings, or else GA either will not perform any actions or will measure your data incorrectly. Follow these pro tips to win your way:
Identify and set the filter parameters with your KPIs in mind.
Discover the potential of predefined filters before you get to custom options.
Select the filter order before you start applying anything, especially if you consider using custom filters.
Hire a GA expert if you lack time to configure all the required settings, as receiving wrong data won't allow you to make the right decisions.
If you need any help with GA filters fill in this form and we'll help you get better data.