Expert commentator | Smart Insights | Fri, 23 Dec 2016 09:00:00 +0000
Talkwalker shares their views on the trends to shape social media in 2017 and practical actions businesses should take to gain advantage from them
In 2016 we saw social media networks introduce many new features including Facebook's live streaming, Reactions, Instagram Stories and major updates to Snapchat.
When the first social media platforms were launched they soon became more than just a place to chat with friends. Brands jumped on them for marketing purposes, journalists spread news stories, and politicians shared their manifestos and opinions as we saw recently with the Brexit in the UK and the US presidential elections.
Now we can see the big social platform offerings overlapping. Facebook Messenger is experimenting with Snapchat's disappearing messages. Instagram Stories has also stepped on Snapchat's toes.
So, what social media trends do we expect to see in 2017?
Trend #1 Increasing need to tie social media marketing to tangible results
The big social networks are giving users new ways to create content from Instagram Stories to a variety of choices for paid ads. Digital ad spending is increasing and has overtaken traditional advertising channels. Whilst businesses appreciate the importance of analyzing ROI and KPIs, measuring social media activity is often done using the analytics tools provided by each social network. But such tools don't offer the possibility of tying in other business KPIs or benchmarking performance against competitors.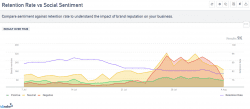 An example of a graph showing social media metrics overlaid with business KPIs
As spending on social media marketing continues to rise, marketers will come under more pressure to really prove the value of their efforts. Brands will need to determine clear goals and tie social media metrics to intermediate goals or conversions like registrations, downloads and traffic, depending on the focus of a campaign and all will have to lead back to revenue.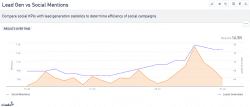 Correlating social media mentions with lead generation statistics gives a clearer view of performance
Action: Make sure you have a clear plan for tracking social media metrics and tying these figures to business KPIs
Trend #2 Brands will need to be able to analyze and monitor visual/video content
96% of consumers find videos helpful when making purchase decisions online.
Visual content and especially video, is taking over the Internet. It's easy to consume and entertaining, with major media brands like Buzzfeed taking the lead. Video content on Snapchat attracts over 10 billion daily views, considerably more than YouTube.
Example of one of Tasty's top performing posts over the last 6 months
This trend, backed by influencer Neal Schaffer, will grow as companies realize the full impact video content will have on their marketing campaigns. Analysing these campaigns is important so companies understand better how to manage and measure the effectiveness of their visual/video content. From a brand protection or PR perspective, tracking when, where and how your product is being discussed with this type of content means you can protect the reputation of your brand whilst boosting brand awareness.
Action: Focus on both creating and tracking the performance of visual/video content
Trend #3 Digital marketing land-grab by social media giants
Social media giants don't want you to leave so they're adding more and more features, discouraging users from linking away.
This means digital marketers will have no choice, they'll be forced to find new strategies to generate leads coming from social media sources. With regard to analytics, brands will need to understand the value they're getting from publishing on each network, and optimize to ensure they're making the most out of each channel.
Michael Stelzner describes how, "large businesses will become the equivalent of the 1990's America Online – a type of Hotel California, where you can enter but never leave.â€
Action: Start looking for ways to start converting social media users without sending them back to your website
Trend #4 Private messaging and peer to peer networks lead user going to dark social
Users, more and more, are looking for private conversations with individuals or small groups, not broadcasting across an entire social media network. Witnessing this shift, Facebook's heavy investment into the development of Facebook Messenger and integrating AI, becomes clear. It is moving quickly towards becoming a marketing platform for winning customers, live chat, ecommerce, and customer support.
Looking to the future, brands will need to build local communities if they wish to continue targeting their audience with their marketing messages. Personalized content will entice users to opt-in to the communities and take part in activities created by the brand such as live events, or engage in one to one dialogue with the brand. Users can then receive live updates through private messaging. Airlines can send flight updates, booking confirmations, etc.
WeChat is already leading the way with half a billion users. Brands are able to create accounts and use them for customer support and advertising. Messages can be sent to customers and once they opt-in, personalized branded content will be sent. Social media influencer Isabelle Mathieu reminds us that, "the four main messaging apps together have a wider community than the four mains social networks.â€
A real-life example of this new "hypertargeting†is highlighted by Dave Chaffey when Vauxhall Motors partnered with Twitter to send personalized videos to football fans via DMs.
No problem Conor! #getin @NorthernIreland #gawa httpss://t.co/ExnuDhEku4

— Andy (@Maartin89) October 24, 2016
Action: Start working out how to use chatbots and other tools to make the most of private messaging
Trend #5 Brands become human – real-time responsiveness will overtake auto-posting
Despite stating earlier that social media platforms are morphing into one, they do still have something that keeps them unique. Each attracts a different audience with its own demographic. When your brand plans a marketing campaign across social, auto-posting will kill your campaign stone dead. Each message must be purposed accordingly, personalized to the audience. Brands using social listening can drilldown and find the individual features of each audience, then tailor according to language, tone of voice, user preferences and needs, and more.
To prove your brand is human, real-time responsiveness gives you the edge. The ability to jump on a trend, reach out to users quickly and start building relationships. From a social listening perspective, this includes tracking for trending news, hashtags, keywords, and mentions of your brand online or on social networks. Keep your editorial calendar flexible and be ready to jump!
Action: Have the resources and flexibility in place to react immediately to news and trends
Trend #6 Live-streaming
Live-streaming will become mainstream and has to part of a brands social media strategy. Brands can boost engagement by streaming seminars, breaking news, music concerts, entertainment and celebrities, sporting events, vloggers, live Q&A sessions, and more. Over the past couple of years, we've seen the launches of Meerkat, Periscope, and Facebook Live. Still a bit clunky, we can expect these new platforms to release better content, improve connection speeds, and reduce lagging.
The potential for live-streaming apps is huge, with video watching already ranking as a top activity on Facebook and Twitter. During the recent US election, Twitter and Facebook live-streamed presidential debates. Twitter also live-streams NFL games. Live-streaming isn't going away. To protect your brand and increase brand awareness, your social listening tool will have to work in real-time tracking images and UGC.
Action: Start thinking of new ways to incorporate live streaming into your marketing and develop your video skills.
We hope you find these social media trends and actions useful. To gain a different perspective based on different social media influencers, check this article on social media trends we expect to see in 2017.