Expert commentator | Smart Insights | Tue, 11 Oct 2016 14:00:00 +0000
Are you making any of these 5 common Instagram marketing mistakes?
300 million active users! 1.2 billion likes per day! 1000+ comments per second! Who would have thought that the Facebook-owned app could drive such a massive amount of social media engagements within a short period of its inception!
Humans love visuals, and that has played a key role behind Instagram's huge popularity. Instagram unveiled itself to the world of social media in 2010, and since then it has become one of the fastest growing social channels with more than 300 million active user count.
Instagram's impressive growth rate has made many online marketers, entrepreneurs and social media influencers to realize the huge potential that it presents. As a result, more and more businesses today are taking the advantage of Instagram's extensive reach to engage their target audiences like never before.
Being a fairly new platform on the marketing scene, there are some rookie errors that people are making with their Instagram promotions. If you are not sure why your marketing efforts on Instagram are failing to generate the desired impact, then it's highly likely that you too are inadvertently making similar mistakes. In this article, we are going to explore 5 common Instagram marketing mistakes that you need to avoid at any cost.
1. Ignoring the Prospect of Sponsored Posts
Sponsored posts can be one of the most effective marketing strategies to gain massive exposure and build a huge base of followers. To leverage the benefits of sponsored post, you need to identify influential Instagram accounts with large number of followers that are catering to your targeted niche and demographic. The next step is to get in touch with those influential users and convince them to promote your content to their followers.
Now how do you know whether those influential accounts accept paid sponsored posts? That's pretty simple. In most cases, the accounts that promote sponsored posts will mention it in their bio. So check out their profiles and see if you can find something like 'Accept Sponsored Posts Request' or 'Open to Business Enquiries'. Usually, they would also mention their contact details to facilitate communication with the interested parties. Shoot them an email with the details of your brand/business and ask for the pricing structure for sponsored posts. And yeah, don't hesitate to negotiate hard for striking a better deal.
Sponsoring posts is a proven technique to gain hundreds (even thousands) of new followers in a short period of time. Many successful Instagram marketers are using this strategy for reaching out to potential customers beyond their list of followers. If you are yet to take this route, then it is quite likely that you are not making the most out of this amazing social platform.
2. Not Using Hashtags Properly
If you are not including hashtags to your Instagram posts, it means your business is missing out on a huge opportunity to get discovered by new users.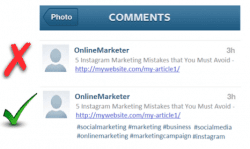 Instagram allows users to associate up to 30 hashtags, but don't overdo it for each of your images and videos. Too many hashtags crammed on a single post may look spammy and you are likely to lose credibility.
Hashtags are a way to get your content discovered by people who are interested in those keywords. It should not be used to manipulate users or the Instagram algorithm. So if you don't want to drive potential customers away, keep your hashtags relevant to the context and limited in number.
3. Not Responding to User Comments
User engagements are important to build brand value and drive conversions. User engagement results in retention, which leads to sales. Instagram is mainly used by marketers for creating brand awareness and building trust among the target audience, and responding to their comments is a stepping stone for achieving this goal.
If you don't reply to comments, it will be interpreted as a sign of not valuing your followers, and it will probably lead to unfollows. So make it a point to promptly respond to all user comments mentioning their Instagram handles.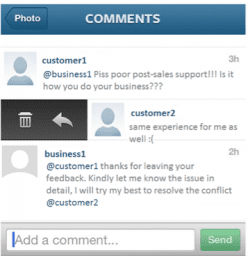 4. Incomplete Bio
Users will not follow an Instagram account if they don't have enough details about the person or the brand that they are following. Your profile builds the first impression about your business and therefore it is important to curate your profile in a professional manner.
Make sure to present your followers with a complete profile in every respect – a good quality profile picture, an interesting description and most importantly, a call to action.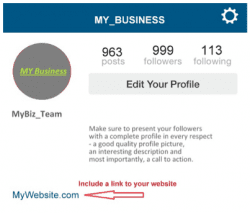 Instagram provides you a dedicated space for including a hyperlink to your business, so make sure that you take full advantage of it. It could be a link to your website or a landing page or something else that can get the visitors hooked. If you don't have a link or call-to-action in your bio, you are making it difficult for your followers to connect with your business.
5. Being Overly Promotional
Promotion is a tricky affair. While not doing it enough is unacceptable, overdoing it can be equally damaging, if not more. You should find the right balance to promote your offers without annoying the users.
Being consistent is the key here. Quality should always be the first priority. So focus on creating quality content first, rather than posting duplicate content over and over again. Sharing the same content multiple times is the easiest way to get unfollowed. It won't deliver any added value to your audience, but may put off your followers and discourage them from engaging with your brand.
The Bottom-Line:
In this age of social media, Instagram is one platform that marketers can't afford to ignore anymore. It has quickly turned into the go-to network for online marketers looking to drive more social media engagements and acquire new customers. But for that to happen, you need to stop making these common marketing mistakes that are discussed in this article. If you can follow these best practices, there is no reason why you shouldn't be able to build a more engaged and loyal social community on Instagram.