Expert commentator | Smart Insights | Thu, 01 Dec 2016 09:00:00 +0000
Examples of companies successfully using events to generate high-quality leads
Whether you're organising events or attending them, face-to-face marketing can be one of the most powerful lead gen tools in your arsenal. Pair this up with a killer data capture campaign and you've got a recipe for success. We asked four companies to share their lead generation tips so you can follow their success.
Content
According to Demand Metric, content marketing generates three times as many leads as traditional outbound marketing – but costs 62% less. An industry report, for example, is a particularly cost-effective way to capture leads and get eyes on your brand.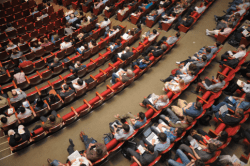 Salesforce recruitment specialists Mason Frank International did just that at Dreamforce 2016, when the company unveiled its latest salary survey.
"From a lead-gen standpoint we wanted to engage job candidates by supplying genuinely useful information on how much they should be earning as a Salesforce professional,†explains Nicola Lloyd, the company's Senior Event Marketing Executive.
"Potential clients – for example, a company looking to hire a Salesforce developer – also benefited from our insights into employee motivation, current software trends, and Salesforce migration.â€
The success of the report hinges on data capture. In order to download the survey, interested parties were asked to supply their name, email address, telephone number and employment status – or collect a printed version at the company's Dreamforce booth.
"Our salary survey and supporting presentation helped drive footfall to our stand, which again allowed us to identify interested parties and find out how we could help them,†says Nicola.
Social media
Jay Baer, President of Convince & Convert, believes social media is the key to creating a buzz around events.
"It used to be you spent five minutes registering for an event, and then showed up on the big day, went to a few workshops, drank two free Coronas, and went home,†he explains.
"Social media changes all of that, enabling events and their planners to have long-term, nuanced, shifting interactions with attendees.â€
Baer's advice can be distilled down to this:
Use social media (and event websites) to shout about your attendance – then encourage your followers to get involved too. Polls and competitions are great ways to drive engagement.
Create teaser videos from your speakers and partners and build out blog content around the venue, event or city you're visiting.
Map out a hashtag around your event (the shorter the better) and track its success using a tool like TweetWally.
Create your own media and push it out through social. This could be a daily podcast or a Facebook Live stream from the event.
Mobile workshops
Pedro Carvalho works at Vidsy, a leading platform for brands to create mobile-first video for social at scale. Interactive events play a huge role in their lead generation strategy.
"We're on social video, which is a very new way for brands to connect with their audiences,†explains Petro.
"As a result, there's a lot of education to be done. Clients want to be educated and we deeply believe that the more educated they are, the bigger the probability of them wanting to work with us.
"We've developed something called the Vidsy Mobile Workshop, which is a two hour event where we explain everything on mobile video and do some fun exercises with our prospects.â€
Pedro says that demand has been great so far. In the last 10 months alone the company has worked with the likes of Unilever, L'Oreal, Vodafone and Barclays.
The Daily Mail, Marks and Spencer and Barclays have also signed up for the company's online workshops.
"Our workshops are very practical. We usually kick-off by explaining to companies how online video works and what they can do to increase their chances of a successful campaign.
"Once everyone has the basics, we make teams and give them assignments. These assignments are usually tailored to the business we're visiting and include:
Defining their audience on the web
Adapt a whole previous TV campaign for mobile / social only
Write a briefing for a fictional product
"Usually, we end with a contest where each team has to explain to the group their ideas. We always choose a winner. A bit of competition never hurts!â€
So, what advice would Pedro give to other companies looking to run events as part of a data capture strategy? "Only do it if you can really provide value. Boring events can destroy your relationship with the client.
"Also, you don't have to run your own events. There's a lot of things happening in the event industry and you'd be surprised how easy it is to get a seat, become a speaker or sometimes just go and network with your prospects for free.â€
Free stuff
Hayley Smith, founder of Boxed Out PR, organises events for her clients – including launch parties, trade shows, exhibitions and press events.
"Though each event has its own requirements and set up I use similar mechanisms in order capture data and generate leads,†explains Hayley.
"For B2C events, competitions and live offers are always beneficial to promote engagement and for converting traffic to social followers.â€
Offering something free in exchange for a follow or a like is simple, but can also create recognition that will really help with your branded search.
"Tote bags are always useful or play to people's interests. If you're a fitness brand, offer branded water bottles or sportswear – and be clever with it.
"Ultimately you want to engage with your audience and use it as an opportunity to collect data so you can remarket to them.â€