Expert commentator | Smart Insights | Fri, 03 Jun 2016 10:00:00 +0000
How to rank well on competitive keywords
SEO is one of the most cost effective ways to generate business. By ranking atop search engines for their target keywords, businesses can generate traffic and increase the chances of visitors buying their products and services,and build awareness of their brands. The best thing about this tactic is how affordable it is – if done correctly, SEO can produce big rewards for relatively a small investment.
However, with the growth of digital marketing throughout the years, SEO has become a common tactic that most businesses employ. Competitors in the legal, real estate, pharmaceutical, and accountancy industry, acknowledged as some of the most cutthroat industries, have smartened up and learned how to leverage SEO to attract customers and hike up sales. It has reached a point that ranking on the very first page of Google can take years, if at all.
Even if business owners have applied all the best SEO practices on their sites, they may still find it impossible to break through the first page of search results.
As a business owner, you want what your competitors are getting, if not more. You wish to use SEO to acquire more customers and build brand awareness. More importantly, you want to one-up your competition and overtake them on search results so you can get more visitors than they do on search engines.
This post will provide you a blueprint on how you can overcome the competition in your niche to rank high in search results for your keywords. This is by no means a shortcut to ranking as the first result on search engines – as mentioned, achieving high search rankings can take years to master. However, this guide will allow you to refine your approach towards SEO to a more critical one that uses competitor data that you will use in building your strategy.
Perform strategic keyword research
Keyword research is the foundation where a successful SEO strategy rests. By choosing the best target keywords, you can get your site ranked on the first pages of search engines and drive lots of traffic in just a few month.
To approach your keyword research in a more deliberate manner, below are factors that you need to consider when looking for target keywords that you should optimize for on your web pages.
Keyword volume – Choose keywords that users search for the most on search engines, which allows your web pages to get found much easier.
Keyword difficulty – Find out how easy or hard it is for your web pages to rank for your chosen keywords. If the pressure is too high for your liking, you may have to replace it with a much more appropriate keyword.
Long-tail keywords – Instead of using head terms as your target keywords, also consider choosing long tail keywords, which has a low search volume but are much more precise to your brand or product. They are also much easier to rank for.
User intent – Understand what users wish to achieve when using the keyword on search engines – are they looking to buy something or just looking for information?
Type of pages ranking high for the keywords – Scout the competition by searching for your target keywords and analyzing the web pages that appear on the first page.
For keyword volume, a quick search on Google Keyword Planner should do the trick.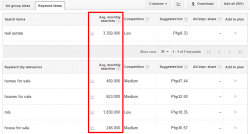 Upon typing your industry in the search bar, click on the Keyword Ideas tab to show the different keywords related to your niche. For this example, I typed "real estate," considered as one of the most competitive niches in SEO.
The Keyword Planner reveals the monthly search volume for each of the keyword listed. AS mentioned, the higher the search volume, the greater more your web page will be discovered by your audience on search engines, the better.
If the Keyword Suggestions do not provide you enough choices for your target keywords, go to Ubersuggest.
Type in your industry to uncover more keywords for your research. The tool adds auxiliary words and phrases before and after your industry so you can have more keywords to choose from. This is also a good place for you to research for long-tail keywords.
Copy and paste the keywords on Google Keyword Planner so you can find out their search volumes.
To collect more data for your target keywords, use the Related Keywords tool of SEMrush.

Upon entering your keyword, you will see different related suggestions along with determining factors such as the level of difficulty in ranking for the keyword on search engines, volume of monthly searches, and the total number of pages ranking.
The idea, of course, is to choose keywords that are easy to rank for in search results.
"If you find a keyword that is easy enough to rank for, you won't need to build as many links to your site – and you will be much more likely to rank at the top of Google,†says Spencer Haws who got his site to rank on top of Google in just 62 days.
Also, consider the user's intent when choosing your target keywords. You want to strike a balance between informational and transactional keywords so you can optimize your web pages using the appropriate keywords. You do not wish to optimize landing pages with informational keywords, for example.
Finally, you need to do a quick search on search engines for the first ten results for your keyword. Identify each page and assess the strengths and weaknesses of each page. Below are some factors that you need to consider using in your assessment:
Content – Determine the type of content (article, infographic, video) and its quality (Is it well written or produced?).
Social proof – Check how many social shares the page has garnered on social media, comments, and testimonials (if any). If the page does not show the number of social shares, you can use COM to get the total amount of shares from different social media sites.
Design – Observe if the page is following the best practices for design elements (site speed, clean design, intuitive user interface).
SEO Factors – Find out if the page is following the latest SEO on-page factors. You can use some of the best paid and free SEO audit tools online to see how the pages compare to each other.
For assessing the different pages, it is best for you to list down all the factors in a spreadsheet, along with other relevant keyword data you have collected so far. The file will provide you the necessary data to help you choose what keywords you need to rank for. It is best to choose from 5-10 target keywords for your website. Later on, you will need to develop pages on your site for these keywords to maximize your site performance on search results.
Conduct competitor research for your chosen keywords
Going back to the pages ranking on the first page of the search result for your chosen keywords, you need to perform off-page SEO on each. Since you have already reviewed the on-page SEO factors of the pages, it is time to see the backlinks of each, which is a factor that arguably bears the most weight when it comes to search rankings.
Going with a different example, I want to optimize for "personal injury lawyer†because I specialize in personal injury cases and want more visitors to my home page (hypothetically). I searched for the keyword on Google and found The Levin Firm, a potential competitor, which ranks sixth on search results.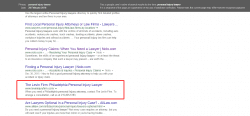 Using SEMrush, go to Domain Analytics > Backlinks and enter the URL of the ranking page in the search bar.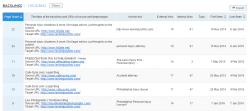 On the screenshot above, you will see the different sites that links to the Levin Firm homepage and the different factors. Best to export the result and file for later use.
You can possibly squeeze out more backlinks from the page using Open Site Explorer. Enter the URL of the page to the search bar.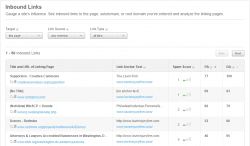 OSE offers almost the same data as the SEMrush Backlinks tool but with additional information such as spam score. To export the data, you need to create an account.
The idea of analyzing backlinks of competitors is to see which among those links you can place a backlink to your site and how. By poaching backlinks from their link profile, you can even the playing field and be on par with the best-performing pages for your keyword.
"Building a strong link profile is one of the benefits that allow people like me in the industry to stay atop Google and attract clients in the process,†says Jonathan Rosenfeld in a quick chat about the effects of SEO in the legal industry.
To get you started, open the exported files and check the URLs that has a backlink of your competitor. Figure out how your competitor placed their backlink there and followed in their footsteps. Below are some of the most frequent ways that you can earn a backlink from these sites.
Guest post – If website accepts guest posts, write one for them with a link back to your homepage.
Broken link building – If the site with a backlink to your competitor is a resource page, identify the broken links and inform website owner. Include link back to your site and ask them to list it down as part of the page.
Blog comment – If blog page that accepts the comment, enter the comment on the page with a backlink to our site. Make sure that comment is not spammy.
Request to link back to our resource – If the page has an editorial link to our competitors' websites, we inform them that we have a better site and pages related to their content. Kindly ask them to refer to our site for their future posts.
Skyscraper technique – Create and publish a better content the competitor sites they linked to the page and emailed them about it. Will also prepare campaigns using this technique that I developed with the team that I plan to have published on the blog.
Identify the type of approach that each of the pages of your competitor's link profile needs so you can prepare a strategy later on that ties with your content creation.
Develop a content strategy
Now you have the target keywords and competitor links in place, you can now develop a content strategy that not only allows you to produce highly targeted content based on your keywords, but also create content for the purpose of earning a backlink.
However, before we begin with actually developing a strategy, you need to go back to your competitors. You need to gain a better insight on how they produce, publish, and promote their content so you can fit and match content tactics that will work towards your favor. Below are some of the factors you need to take note of when reviewing each of the competitor pages.
Post type – Are they posting other forms of content other than articles?
Post quality – How many words do they publish for each post? Are the posts very generic or do they go in depth on their respective topics? Also, are the posts SEO-friendly?
Post Frequency – How many times do they publish content in a week or month?
Social media activity – Which social media sites do they get the most shares and how? How many fans and followers do they have on social media and how much engagement are they getting?
The most important thing to consider when reviewing these factors on each page is their strengths and weaknesses. For example, if your competitor site produces high-quality content a monthly or bi-monthly basis, then you want to publish equally great content with more frequency.
The idea is to copy their strengths and capitalize on their weaknesses so you can produce a much better performing site.
Regarding the volume of content you want to create for your blog, you may need to test the waters first before plunging into doing in-depth articles.
"Start any site with mini site model (5 – 10 articles) to test the water and scale up to the authority site model if the site performs well,†says Tung Tran of Cloud Living.
Using Levin Firm as an example, below is a fundamental overview of their content strategy:
Site is rich in high-definition images and has commendable web copy
Features videos that explain how their business works
Great display of social proof in the form of testimonials and awards received
Very clear and cut-dry "What We Do†section (Personal Service, Award Winning, et. al.)
Well-defined cases of personal injuries that links to an article on the page
A Free Case Consultation Form at the bottom of the page
With a quick view of the content from this perspective, you can easily pinpoint actionable items to help your website look more like Levin Firm, if not better.
You may need to list down all these things in your spreadsheet to keep a handy file of your competitors that you can refer to in the future.
When it comes to creating content, I have posted a very in-depth guide that emphasizes the importance of finding backlinks first before developing content for your site.
By collecting backlink opportunities from sites where your competitors also have a link on, you can build content for the purpose of not only building value for your readers but also building links.
For example, in the Levin Firm homepage, I looked into the sites linking to the article using SEMrush.

From the results, I clicked on the Law Photography homepage , which is near the top of the list.
Browsing down the site is the article "How to Get the Personal Injury Lawyer You Need" with a link to the Levin Firm at the bottom. Looking at this from an SEO perspective, you can create a similar and even better content about personal injury. You can reach out to the Law Photography site through its contact page informing them that you have written an article about personal injury that can be linked from their article.
This is just one possible way to approach building links from this site. There are other better ways, especially if you can get creative and much more persuasive with your approach.
Using these ideas, generate a content strategy that focuses on your strengths and capitalizing on the weaknesses of your competition, as well as allows you to develop content with building links as your end goal.
Organize your link building strategy
While there are link building tactics incorporated within your content strategy, you still need to formulate a more comprehensive link building strategy that will tie all your efforts together in earning links from different sites.
For the sake of this article, you should stick to the formula of competitor research using the backlink data gathered from SEMrush and Open Site Explorer. By exhausting all possibilities so, you can build a link profile that mirrors your competition. By poaching their links as mentioned above, you can close the gap between you and your site regarding backlink quantity and quality.
You can even work your way down to the other pages of search results so you can endlessly mine for more competitor links, even if they rank lower in the pecking order.
Finally, you can incorporate other ingenious link building tactics to ramp up your efforts. Identify which tactics in the list that your competition is doing and isn't. Similarly, you can copy tactics that work for them and amplify link building tactics that they have yet to do on their sites.
Conclusion
Competition can be tough, but you need to be tougher especially if you want to succeed in a ruthless niche. The great thing about the strategies mentioned above is that they provides you with a sustainable link profile that mirrors your competitors so you can get the same links they do. Also, the backlinks you can harvest from these strategies are endless since there are thousands of pages that you will have to mine links from. Implementing these strategies will take a lot time, but it should be all worth it once you have conquered your niche.